With the advent of streaming platforms, how we consume music has undergone a significant transformation. While platforms like Tidal offer an extensive library of songs to stream on-demand, some music enthusiasts still prefer to own their favorite tracks. Whether for the joy of collecting, the desire for higher-quality audio files, or the convenience of offline playback, purchasing music remains an appealing option for many.
Nowadays, Tidal primarily focuses on providing subscribers unlimited access to millions of songs. The platform offered options for purchasing individual tracks, albums, or exclusive content in the recent past. Ever since Tidal Store closed down, users have been looking for alternative ways to buy their favorite music tracks. If you are also looking for an alternative way to buy music on Tidal, this article is for you.
This article delves into various alternative methods for how to buy music on Tidal. By adopting these approaches, you can curate a personal library of your beloved songs while embracing the advantages of the streaming era.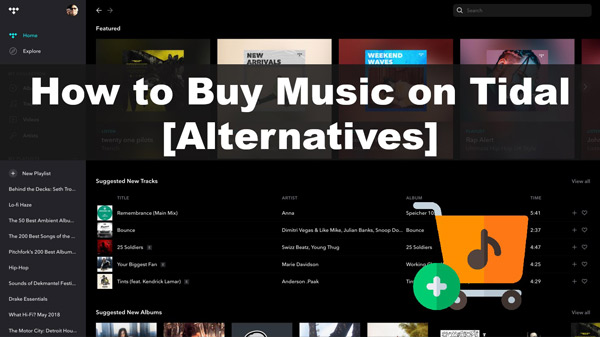 ---
Part 1. Can You Buy Music From Tidal?
The first question we deal with is, can you purchase music on Tidal? In a surprising move that disappointed many music enthusiasts, Tidal, the popular music streaming platform, decided to close its Tidal Store in Oct 2022. This development means purchasing music directly from Tidal is no longer an option. The platform has shifted its focus solely to streaming services.
The closure of the Tidal Store was undoubtedly a significant change for the platform's users, who appreciated the option to own their favorite music. This article will explore alternative ways to enjoy and build your music collection, even without the ability to purchase music directly from Tidal. These alternatives will help you discover new avenues for owning your favorite tracks, exploring exclusive content, and enhancing your overall music experience.
Although Tidal no longer facilitates direct music purchases, it continues to provide an extensive library of songs for streaming, along with features that cater to music lovers' preferences. From curated playlists to high-fidelity audio, Tidal remains committed to delivering a premium listening experience to its subscribers. Here is the pricing of Tidal HiFi and Tidal Plus to listen to high-quality music on Tidal:
| | | |
| --- | --- | --- |
| Features | HiFi | HiFi Plus |
| Price | $9.99/month | $19.99/month |
| Sound Quality | Up to 1411 Kbps | Up to 9216 Kbps |
| Songs | 100M+ | 100M+ |
| Videos | 650K+ | 650K+ |
| Ad-Free | Yes | Yes |
| Listen Offline | Yes | Yes |
| Tidal Connect | Available | Available |
| Expert Curated Playlist | Available | Available |
---
Part 2. Alternative Ways to Purchase Tidal Music
While Tidal may no longer offer its music purchasing feature, some alternative platforms and services can fulfill your desire to buy and own music. This section will explore three popular options: iTunes, Amazon Music, and Qobuz. These platforms provide avenues for purchasing and downloading music, allowing you to expand your collection and enjoy the benefits of ownership.
1. iTunes
iTunes, Apple's renowned digital media platform, has long been a go-to destination for purchasing music. With a vast catalog spanning various genres, iTunes offers an extensive selection of songs and albums available for individual purchase.
By venturing into the iTunes Store, you unlock the gateway to a vast assortment of music. Moreover, it allows you to explore various genres and emerging artists and add your preferred tracks to your digital collection. One advantage of using iTunes is its compatibility with multiple devices. Here is how you can buy music from iTunes:
Step 1: Open iTunes on your computer and select "Music" from the appearing menu. Now, tap "Store" in the navigation bar to access the music store.
Step 2: Here, find the song or album you want to buy and click the price next to it. By clicking the price, you will be able to buy the song or album.
2. Amazon Music
Amazon Music, a prominent player in the music streaming realm, presents an alternative avenue for acquiring and possessing music. While Amazon Music predominantly functions on a subscription-based model, granting users access to an extensive library of songs for streaming, it also encompasses a distinct store where individuals can purchase individual tracks, albums, and exclusive content.
Within the Amazon Music Store, users can delve into diverse music genres, peruse new releases, and quickly acquire their cherished songs. Use the following steps to buy music from Amazon Music:
Step 1: Visit Amazon Digital Music Store on your computer's web browser and search for the song or album you want to buy. Once it appears in the search, click it.
Step 2: In case you want to buy the whole album, tap "Purchase Option" and choose the "MP3 Music" option. If you want to buy a single track, click three dots in front of the track and use the "Buy MP3 song" option.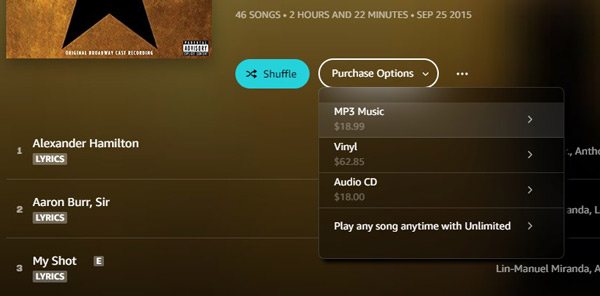 3. Qobuz
Qobuz is a music streaming and download service that prides itself on offering high-quality audio. Alongside its streaming options, Qobuz provides a store where you can purchase music in various formats, including lossless and high-resolution audio. This makes Qobuz an excellent choice for audiophiles and those who prioritize superior sound quality.
By purchasing music from Qobuz, you gain access to a diverse range of genres and artists, all delivered in exceptional audio fidelity. Follow these steps to buy music from Qobuz:
Step 1: Go to the Qobuz Store and search for the album you want to buy. After finding the album, click the "See the Album" icon to access various options for the song/album.
Step 2: From the available options, confirm your action by pressing "Buy the Album" or "Buy Track". Once the album is bought, you can download it and play it offline.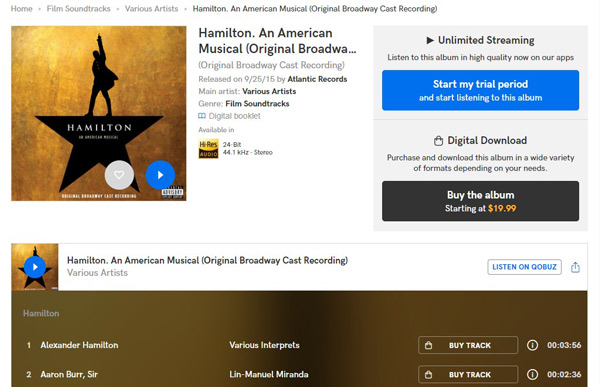 ---
Part 3. How to Get Tidal Music Without Purchasing
In the absence of Tidal's music purchasing feature, there are still ways to acquire Tidal music without direct purchases. One such method is by using a dedicated tool like AudKit Tidal Music Converter. This powerful software allows you to download and convert Tidal music to various formats, enabling you to build a personal collection of your favorite tracks.
AudKit Tidizer Music Converter is designed to provide a comprehensive solution for Tidal music enthusiasts to download songs from Tidal to the desktop offline. Furthermore, it retains the original ID3 tags of the Tidal tracks, including information such as artist name, album title, track number, and more. This ensures that your downloaded music is properly organized and identifiable within your collection.
It provides a reliable solution for acquiring Tidal music without direct purchases. This specialized Tidal music converter is compatible with both Windows and Mac operating systems, ensuring accessibility and functionality across a wide range of devices.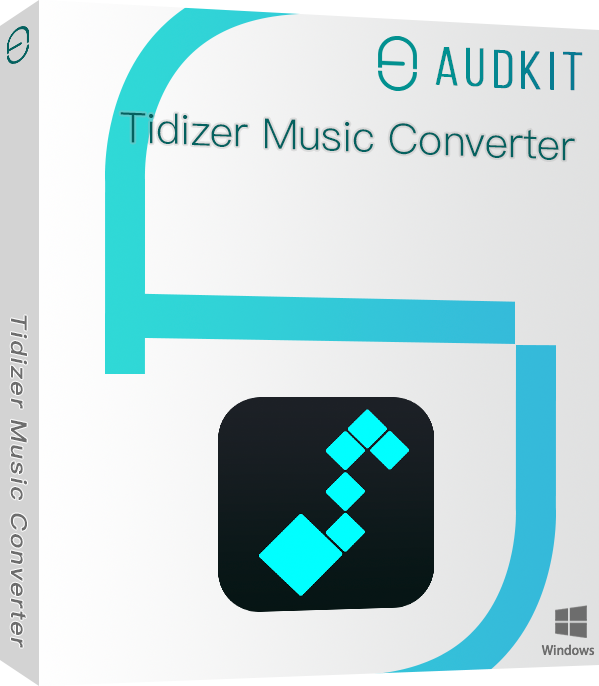 Convert Tidal music offline at 5X the normal speed
Download playlists from Tidal to FLAC, WAV, MP3, etc.
Employ advanced technology to retain lossless sound
Its versatility ensures compatibility with different devices and platforms
Step to Use AudKit Tidal Music Converter to Download Tidal Tracks
The process to convert Tidal music to your favorite format is extremely simple with AudKit Tidizer Music Converter. Here is how you can convert Tidal music for offline use:
Step 1 Adjust the output of Tidal music preferences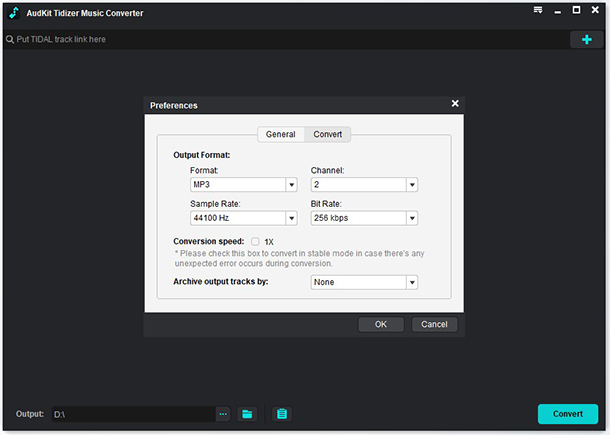 After opening AudKit Tidizer Music Converter, click the "Menu" icon from the top right corner. Choose "Preferences" from the available options and navigate to the "Convert" tab. Here, customize the output format by selecting the desired format, bit rate, sample rate, etc.
Step 2 Add your Tidal music collections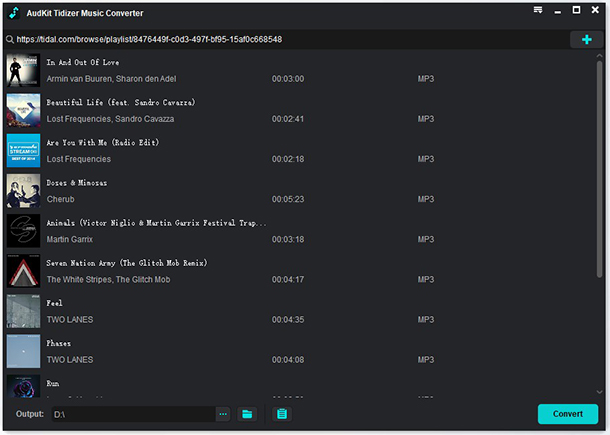 Once you have customized the output, the next task is to import Tidal songs on AudKit Tidizer. You can drag and drop songs from Tidal to AudKit Tidizer or right-click the music, tap "Share" and use "Copy Track Link" to get the songs. After copying the link, paste it into the search bar of AudKit Tidizer and click the "+" icon located near the top right corner.
Step 3 Obtain music from Tidal by downloading it offline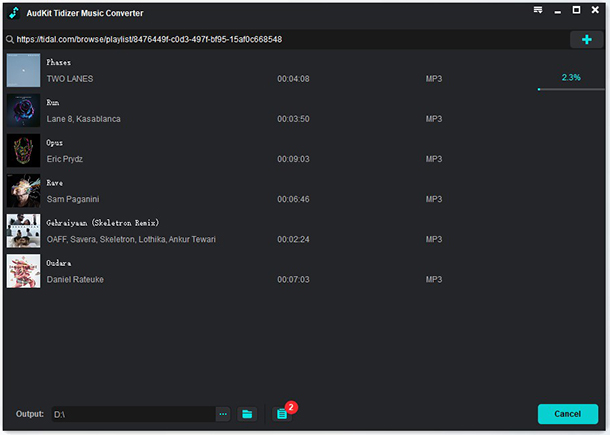 After adding the songs to AudKit Tidizer Music Converter, click the "Convert" button from the bottom right corner to start the conversion process. You can add more songs during the conversion process to convert them to your favorite format. Once all tracks are finished, a noticeable red indicator will appear on the "Converted" icon. Simply open it to reveal the converted Tidal music files within.
---
Part 4. In Conclusion
To summarize, we have explored alternatives on how to buy music on Tidal, especially after the closure of Tidal's music store. While direct purchasing is no longer available on Tidal, we have uncovered various options that allow you to build a personal music collection and own your favorite tracks.
Among these alternatives, AudKit Tidal Music Converter stands out as an exceptional tool for acquiring Tidal tracks offline. It offers a comprehensive solution and its key features, such as lossless sound quality preservation, 5X conversion speed, and retention of original ID3 tags, make it stand out.
---