Tidal is well-known as a high-fidelity music streaming service that provides more than 100 million songs with HiFi sound quality and innovative sound formats. Meanwhile, you'll experience a lossless sound experience with clear and crispy audio. Thus, you'll stream your music like listening to them live.
You can also listen to songs on Tidal in an offline mode. Moreover, the available AAC high-res quality can help you access sound with balance in data usage and sound fidelity. The presence of technologies like Dolby Atmos, 360 Reality Audio, and MQA helps provide innovation to your music experience.
However, Tidal music streaming is backed with DRM protection that prevents users from listening to downloaded songs without using the official platform. If you want to remove DRM from Tidal, this article will help you.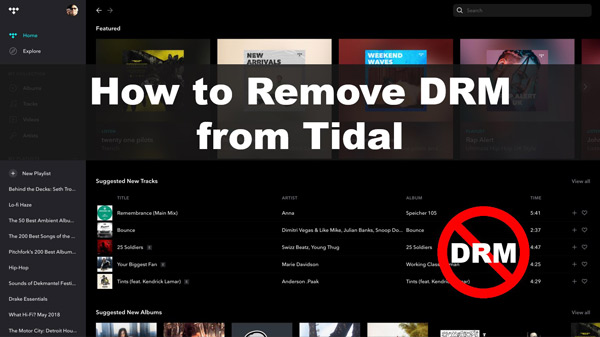 ---
Part 1. Why Is Tidal Music Protected by DRM?
DRM, Digital Rights Management, is a set of techniques and standards by which digital content rights are protected and preserved. The goal is to prevent piracy or other illegal uses without permission. Many companies use DRM to prevent unauthorized use that is restricted. Similarly, Tidal is also using the DRM mechanism. Let's find what made Tidal use DRM protection:
1. Preventing Copyrights
With DRM, the issue of copyright could be minimized while safeguarding the rights of various content creators. In a similar scenario, Tidal has licensed music available from popular artists, musicians, and other recorded labels. Thus, DRM will help prevent the unauthorized distribution of these digital media items. Consequently, only those who have subscribed can listen to and download music.
2. Revenue Protection
Tidal is a subscription-based platform that earns revenue based on purchased subscriptions. DRM will eventually help protect the revenue stream for Tidal. This is because Tidal makes it difficult for users to redistribute or share music content. In this way, users will have to purchase Tidal HiFi or Tidal HiFi Plus as they don't have other options and cannot listen to music in a free scenario.
3. Maintaining Industrial Standards
Tidal is a well-known name in the market when it comes to music streaming. So it doesn't compromise the quality and consistency of their work. That's why using DRM is important for Tidal to meet the expectations of the copyright holders. In general, all major streaming platforms use the DRM mechanism, so DRM becomes a necessity for Tidal as well. Eventually, they will remain an established name in the market.
4. Anti-Piracy Measures
By employing DRM technology, Tidal can use anti-piracy measures to overcome all sorts of illegal access. These measures particularly include authentication and encryption of digital content. So, it will become difficult for everyone who is looking to create a pirated copy of the music. DRM will make sure such a thing doesn't happen, and this protects the collective interests of Tidal and artists.
---
Part 2. Best Tidal DRM Removal to Get Rid of DRM from Tidal
If you want to continue using Tidal music on your device without interruptions, AudKit Tidal Music Converter is the best solution. This way, you'll be able to copy the music on your device or play it on other music players without problems. Meanwhile, the Tidal DRM converter is supported on both Mac and Windows platforms.
The platform allows you to download music, playlists, and even albums. Meanwhile, advanced conversion technology maintains HiFi and MQA lossless quality. The supported music file formats include AAC, FLAC, M4B, MP3, and more. The conversion speed stands at 5X because of the high processing power.
Generally, you can also enjoy music playback on Apple Watch, PS5, Google Home, and others. This is possible by using AudKit Tidal Music Converter. Interestingly, you can listen to songs offline without requiring a Tidal app or subscription. The software is updated on a regular basis and eliminates all sorts of underlying bugs and issues.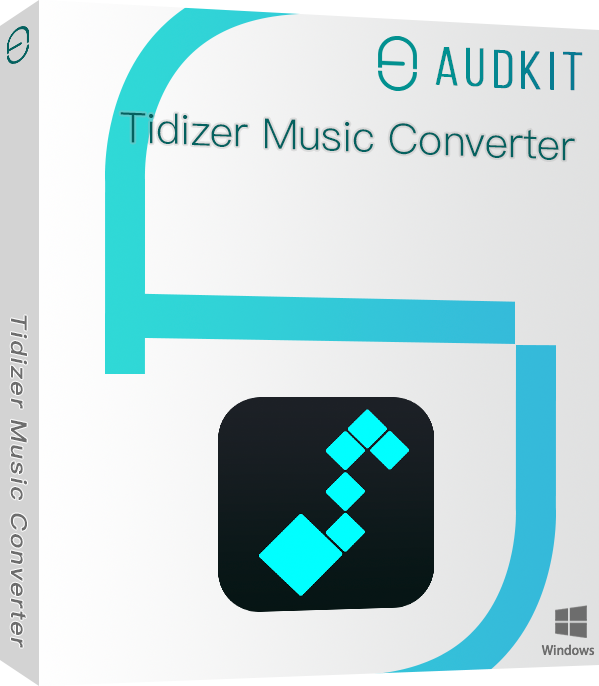 Main Features of AudKit Tidizer Music Converter
Come with a user-friendly interface for easy and convenient use
Adjust audio settings with the format, bitrate, sample rate, and more
Experience facility of batch Tidal to MP3 downloads
Capture and keep ID3 tags from the original content
Step-by-Step Instructions to Use AudKit Tidal Music Converter
Do you also want an answer to the question, how can I download DRM-free from Tidal? Here you'll find easy steps with detailed instructions on using the AudKit Tidal Music Converter.
Step 1 Edit Tidal audio output preferences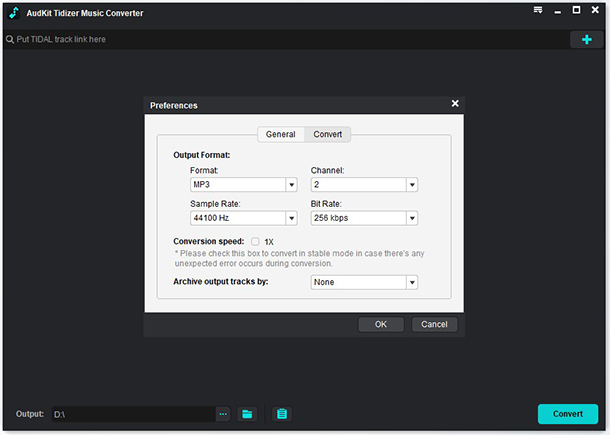 After downloading AudKit Tidal Music Converter on your computer, unlock its features from the "Menu" after registering. Continue to select "Preferences" from "Menu" and access the "Convert" tab. Make sure to customize the output format, sample rate, channels, bitrate, and more. You are able to convert the output format of Tidal to MP3, WAV, FLAC, AAC, M4A, and M4B.
Step 2 Copy Tidal URLs to AudKit Tidal Music Converter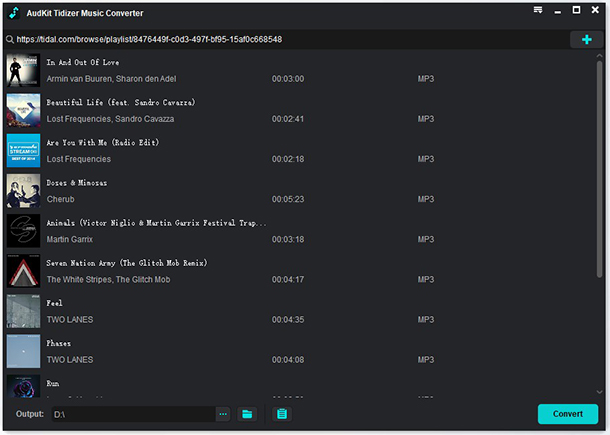 Proceed further to drag and drop the music from Tidal to AudKit Tidizer Music Converter. In another scenario, you can right-click on the Tidal track, select "Share" and choose the "Copy Track Link" option. Paste this link on the AudKit Tidizer search bar and press the "+" icon for a successful import.
Step 3 Download music to remove Tidal DRM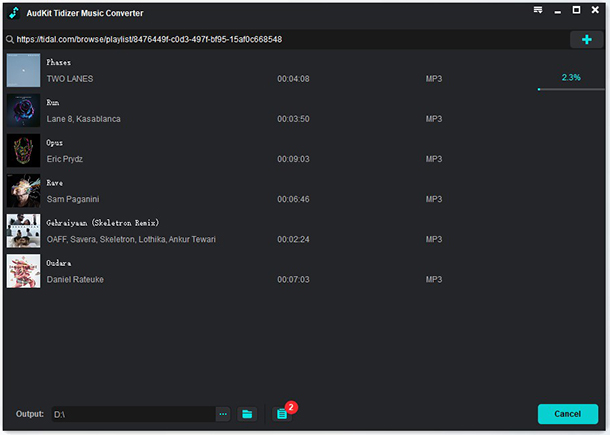 After your music is imported, press the "Convert" button, and the conversion process begins. You have the option to add further songs during the conversion process. A red tip appears on the "Converted" icon when the conversion is completed. You can also press the icon to preview the downloaded music.
---
Part 3. In Conclusion
Like other music streaming platforms, Tidal is among the popular utilities. Meanwhile, using Tidal can restrict you from listening to songs in offline mode on your device. This is because of the DRM technology embedded in the Tidal. If you want to remove Tidal DRM, this article provides the best way to start. A reliable and trusted solution is AudKit Tidal Music Converter which can download Tidal HiFi and Tidal MQA music offline.
---