Are you loving all the great music that can be found on Tidal? Have you been creating some awesome songs and can't wait to share them with your friends? Maybe you have discovered a hidden gem of an artist or album and cannot wait to get it out there. No matter what kind of jams or bops have caught your attention, can you share playlists on Tidal?
The answer is yes! You can easily share playlists from Tidal by using its native sharing functions, which can be found right on the Tidal app. You can use other ways to save Tidal and share playlist with friends as well. In this article, we will unravel steps on how to let you share items on Tidal on any platform easily. Read on to find out more!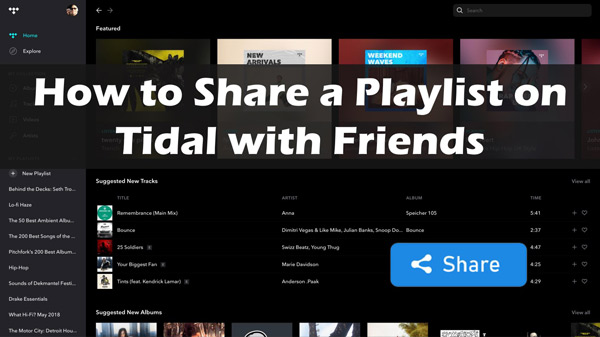 ---
Part 1. How to Share Tidal Playlists with Friends via Share Feature
Different online music streaming sites employ various strategies to win a client base. And while Spotify and YouTube focus on collaboration, Tidal focuses mainly on the quality and sound of its streaming.
But that does not mean you cannot share your favorite playlists with friends! Sharing a Tidal playlist is super easy, so here's what you need to do.
Step 1. First, open up the Tidal app on your device and locate the desired playlist.
Step 2. Next, choose "Share" from the dropdown after clicking on the More(three dots) icon.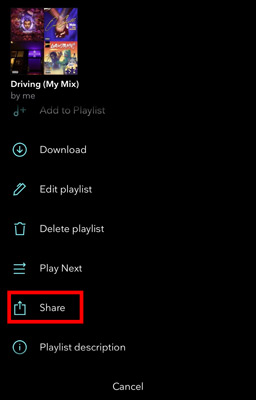 Step 3. Finally, you can choose to copy the link to the Tidal playlist or choose another sharing method depending on how you want to share it with your friends.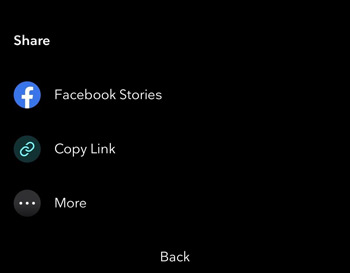 That was simple. You can now share playlist Tidal on social platforms or send the link to a specific person via their social media inbox. Go ahead and spread some good music around!
---
Part 2. How to Share Playlists on Tidal via Public Playlist
So, apart from sharing the Tidal playlist with friends, is it possible to show it to the whole world? Yes, you can! Tidal offers a great way to share playlists with the public. Recently, Tidal launched a new feature called "Profiles" that allows users to make Tidal playlists public and share their playlist with their friends/public on social media platforms.
However, there is a catch to using this feature. First, you must redefine your privacy settings on playlists; this way, you can effortlessly share Tidal with friends/the public on Facebook, Instagram, Twitter, etc. That said, here is a quick guide on how to share a playlist on Tidal through Profiles!
As we mentioned, the first step to publicly sharing Tidal playlists is resetting your private to public privacy. Check out the steps below. Here we will illustrate the guide for the Tidal mobile app.
Step 1: Start the Tidal app and log in to your account.
Step 2: Tap the profile icon at the bottom right corner of the window and head to "My Collection".
Step 3: Select "Playlists" and then choose one Tidal playlist to view it.
Step 4: Next, tap the three-dot icon next to the playlist you want to share publicly.
Step 5: Tap "Private" and it will show you a message about making the playlist public. Tap "Confirm" to set it public.
Now that you have changed the privacy setting to public, anyone can search your profile and browse your public Tidal playlists. You can also easily send your Tidal profile link to a specific person on social platforms such as Facebook, Twitter, and Snapchat.
---
Part 3. How to Download and Share Tidal Playlists with Others
From our previous discussion, it is pretty clear that sharing playlists with friends and the public on Tidal is possible. However, there is a limitation to these methods; friends can only access the shared playlist within the Tidal app. What can we do if you want to share the playlists with friends who don't have Tidal?
In such a case, you will need an efficient way to share Tidal songs offline, which means you will need to download the playlist to your device first. Unfortunately, Tidal does not allow subscribers to directly download music files to their device, which can be quite a bummer. But don't worry! There's another way to get around it with AudKit Tidizer Music Converter.
The AudKit app can help you download your Tidal music quickly with no loss of quality, all while preserving the original metadata tags, such as artist name, title, album cover art, and more. Plus, it can convert your playlist from Tidal into multiple formats, such as MP3, AAC, or WAV, so you can share them on any device or platform without worrying about file compatibility issues.
It downloads Tidal playlists with a free Tidal account and can also process files 5X faster than the average converter, giving you more time to explore new musical discoveries! With AudKit Tidizer Music Converter in hand, getting Tidal playlist shared can be done in no time!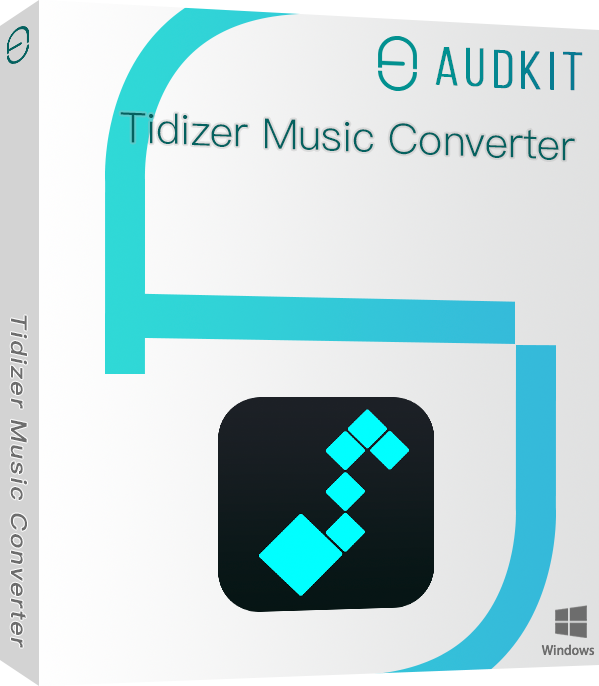 Main Features of AudKit Tidizer Music Converter
Convert playlists from Tidal into multiple devices free
Batch download Tidal playlist with 5X conversion speed
Save all Tidal sound quality and ID3 tags for exploration
Share Tidal playlists with friends on any social platform
How to Download Playlist from Tidal Locally
Step 1 Install AudKit Tidal Music Converter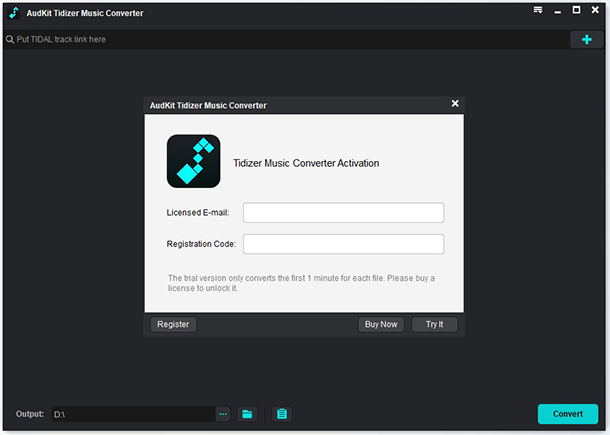 Proceed to the AudKit Tidizer Music Converter website and click "Download" to download the file and set it up on your Windows or Mac computer. Start up the AudKit software to get ready for downloading. After launching the AudKit app, you will need to register for a complete conversion. Go to "Menu" > "Register" and provide your email address and license code on the pop-up window. Hit the "Register" button to activate the converter.
Step 2 Define the output profile for Tidal playlists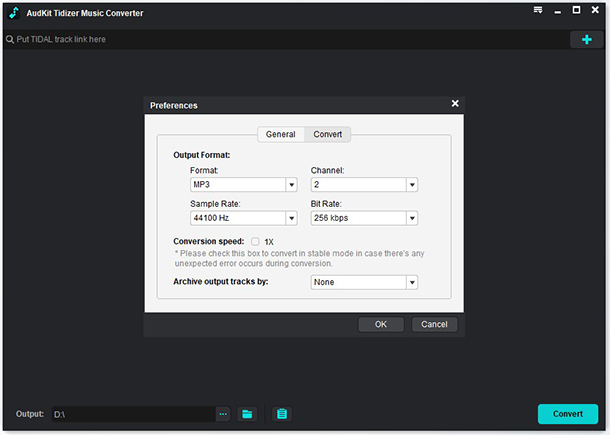 On the menu icon, select the "Preferences" > "Convert" options in succession. On the new window, you can customize your desired audio sample rate, bit rate, conversion speed, output format, etc. You can choose to convert Tidal to MP3, FLAC, AAC and more formats provided by AudKit Tidal Music Converter. Then, tap the "OK" button.
Step 3 Upload Tidal playlists to AudKit converter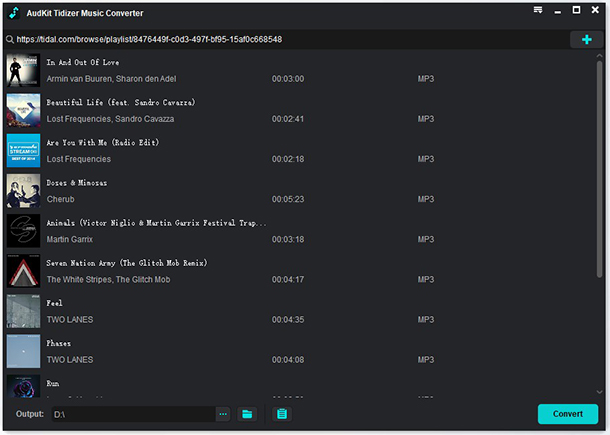 Add your Tidal tracks on the AudKit app for conversion. You can either drag and drop the playlist from Tidal into the converter interface or right-click on the playlist, select "Share" > "Copy Playlist Link". Then, paste the song's link onto the AudKit converter search box and hit the "+" button to add them.
Step 4 Start converting Tidal playlists offline for sharing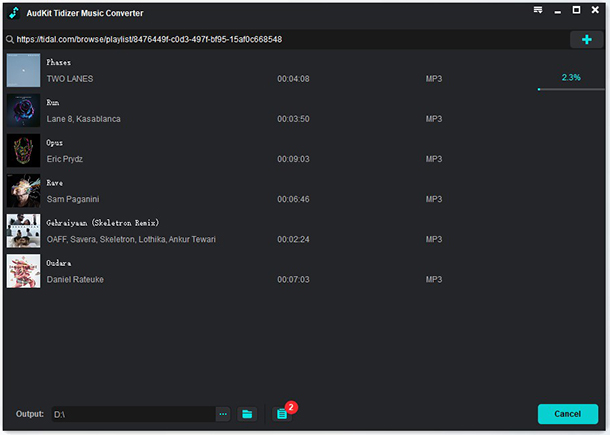 After importing the songs, hit the "Convert" button to download the tracks on your computer. It will take some time to finish the downloading process. Once it is complete, click on the "Converted" icon to find the downloaded songs on your PC.
Now that you have downloaded and saved the playlist from Tidal as local files, it can be easily shared with friends and family. You can save Tidal music to USB, or send the files to others on social platforms, etc.
---
Part 4. Conclusion
If you are one of the guys searching for "Tidal share playlist with friends", this is the tutorial for you to learn how to share Tidal playlists. As you can see, there several ways to share your liked Tidal playlists: through share links, public playlists, and Tidal local files. The most efficient way is to use AudKit Tidizer Music Converter. It allows users to download Tidal music with no loss of quality and convert it into multiple formats for easy sharing. Give it a shot.
---