"Hey, guys! Help me use my Cambridge Audio Tidal, as I couldn't find any useful way. I bought Cambridge Audio to play Tidal music but couldn't connect Cambridge Audio and Tidal via Tidal connect. Please suggest a valuable method for streaming Tidal songs on my Cambridge Audio CXN V1. Thank You!"
Are you wondering how to operate Tidal connect Cambridge Audio? If yes, we are here to help you with the best possible methods. Cambridge Audio provides users with high-quality natural sounds. Its CXN network player lets users listen to many Tidal songs and playlists via Tidal Connect.
Tidal Connect is a simple way to pair their Tidal account to any supported device easily. With your Tidal HiFi, HiFi Plus, or Tidal Free account, you can easily play your favorite Tidal track on Cambridge Audio via Tidal Connect. If you encounter the problem of Tidal Connect not working, we also provide another effective way to listen to Tidal. Keep reading, get answers to your queries and enjoy Tidal on Cambridge Audio CXN V1/V2 online and offline.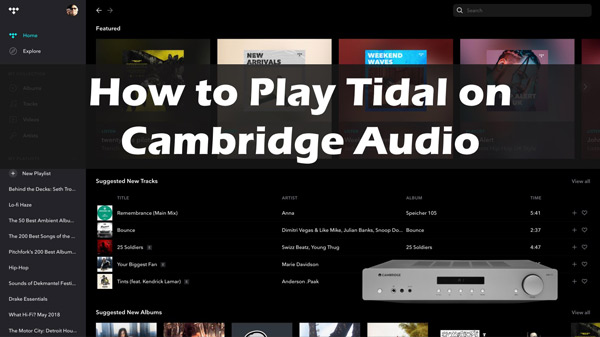 ---
Part 1. How to Connect Cambridge Audio and Tidal via Tidal Connect
Tidal is a popular music streaming platform that lets users listen to their favorite artists with the original sound quality. With Tidal, you can play any Tidal song or playlist with High Fidelity audio quality without any wire connection. With its award-winning network player, CXN, Cambridge Audio provides 100% original music quality.
Tidal users want to listen to their favorite music on Cambridge Audio, which can be done only via Tidal Connect because Cambridge Audio does not have an in-built decoder to play MQA audio content with the Tidal app.
Let's get to know how to play Tidal MQA music on Cambridge Audio devices:
Step 1. Connect your device and Cambridge Audio device to the same internet connection.
Step 2. Now, launch the Tidal app on your device and play a Tidal track.
Step 3. On the playing screen, you will see a "Sound Output" icon; click on it.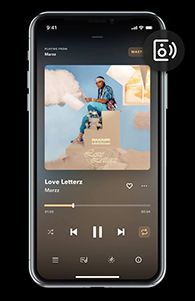 Step 4. Select CXN V1/V2 to connect Tidal to Cambridge Audio via Tidal Connect.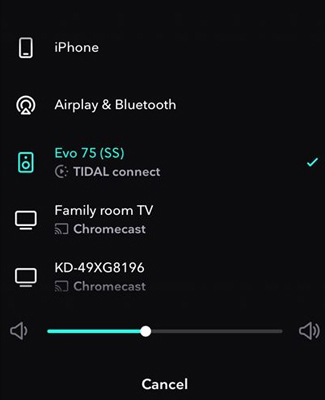 Now, you are aware of how to use Cambridge Audio Tidal Connect. It is simple to follow the guide to make a connection.
---
Part 2. How to Download and Use Tidal with Cambridge Audio Offline
Although using Cambridge Audio with Tidal through Tidal Connect is easy, users face connectivity issues or internet problems. For better Tidal listening, it is better to download Tidal MQA music offline, which can make the process barrier-free. We recommend you use the best AudKit Tidizer Music Converter compatible with Mac and Windows PC.
AudKit Tidizer Music Converter downloads Tidal songs and playlists to multiple audio formats such as MP3, M4A, FLAC, AAC, M4B, and WAV. You can easily use the converter with your Tidal HiFi, HiFi Plus, or Tidal Free account. With a simple process, you can download as many Tidal songs and playlists as you want and listen to them anywhere, anytime without worrying about the connecting issue.
AudKit Tidal Music Converter provides users with high sound and MQA lossless quality of their favorite Tidal music. It has a built-in ID3 tag editor that captures and keeps the Tidal songs' original tags. Moreover, with 5X faster speed, this downloader converts Tidal long playlists on Windows computers within minutes.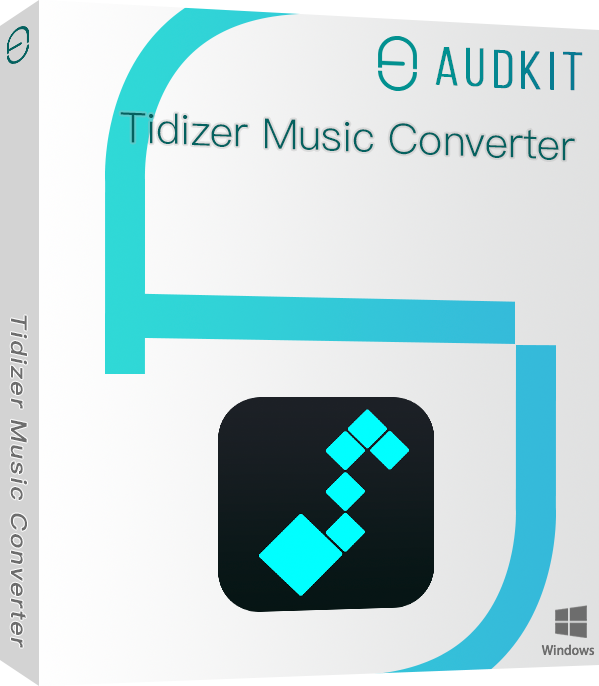 Main Features of AudKit Tidizer Music Converter
Convert Tidal music to MP3, WAV, FLAC and more
Provide high-quality Tidal music offline on Cambridge Audio
Download Tidal HiFi and MQA songs at 5X speed
Keep the original ID3 tags of Tidal tracks after conversion
The process to download Tidal music with AudKit Tidizer Music Converter is easy. Follow the given step-by-step guide:
Remember: Install and download AudKit Tidizer Music Converter on your Mac or Windows PC.
Step 1 Set Tidal playlist output preferences for Cambridge Audio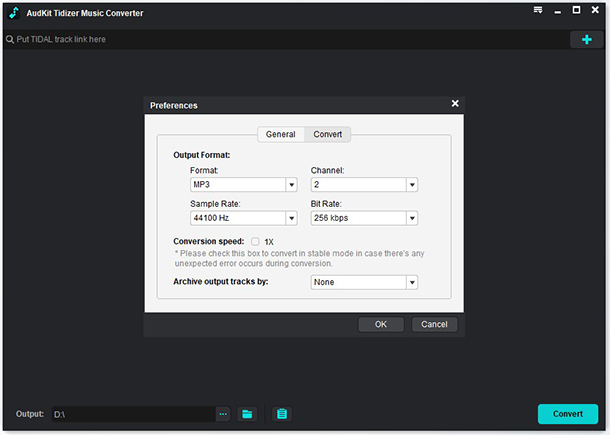 After successfully installing the AudKit converter, launch it by clicking on the converter's desktop icon. On the main interface, you will see a menu icon at the top-right corner; click on it. Select "Preferences" and open the "Convert" section on the pop-up window. All the output settings are automatic, but you can change them if necessary. You can customize the audio format, sample rate, channel, and bit rate for Tidal. The format should be the one compatible with Cambridge Audio.
Step 2 Add Tidal songs to the AudKit converter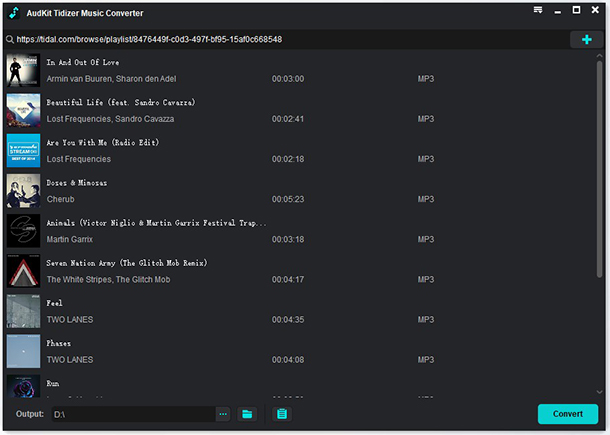 It's time to import Tidal soundtracks to the converter. You can use two ways; Copy & Paste/Drag & Drop to add Tidal music. Drag a Tidal song or playlist and drop it on the converter's interface. Or you can also copy the song's link and paste it into the search bar at the top of the converter's main interface. Then click "+" to add all your selected music tracks.
Step 3 Download Tidal music for Cambridge Audio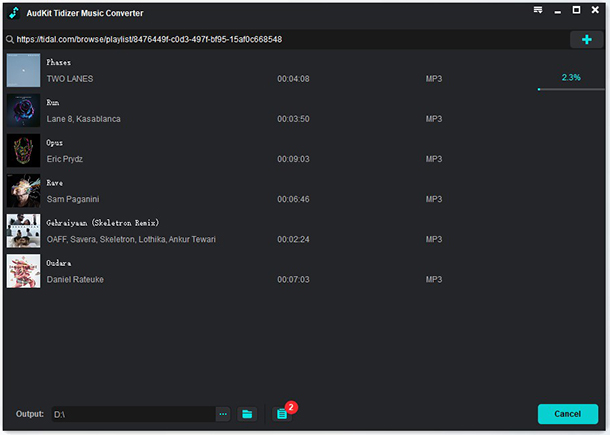 After adding the songs from Tidal, click "Convert" to start the conversion process. The AudKit converter will convert and download Tidal MQA songs with a faster speed of 5X (on Windows) or 1X (on Mac). Once the download is complete, you will see a red highlight in the "converted" folder at the bottom.
Now you have downloaded all your favorite Tidal songs or playlists on your computer. Transfer the music folder of all Tidal tracks to a USB drive and use it on your Cambridge Audio. That's how you listen to Cambridge Audio CXN V1/V2 Tidal MQA offline without any issue.
---
Part 3. FAQs about Cambridge Audio and Tidal
Q1: Does Cambridge Audio support Tidal MQA quality?
Due to its built-in encoder, Cambridge Audio CXN V2 enables MQA quality Tidal audio to play via Tidal Connect. But it can't playback the whole MQA file because there is no built-in decoder to play the MQA files.
With recent updates of Cambridge Audio, users can play MQA files on the Tidal desktop app. You need to connect your computer to the Cambridge Audio player by Bluetooth or using a USB connection and listen to Tidal MQA tracks.
Q2: Which Cambridge Audio Streamer has Tidal Connect?
You can use Tidal Connect with the following Cambridge Audio streamer devices:
CXN V2
CXN V1
Evo 150
Evo 75
Edge NQ
851N
…
---
Part 4. Conclusion
Now, you have learned how to use Tidal connect Cambridge Audio. The easiest way to get Cambridge Audio Tidal to work is using Tidal Connect which can link the device right away and enjoy Tidal music. And to listen to your favorite Tidal MQA music on Cambridge Audio CXN V1/V2 without loss and connectivity issues, AudKit Tidizer Music Converter is there to help you. You can easily download Tidal songs offline and get them to play on Cambridge Audio without Tidal Connect.
---