Tidal is known to provide high-fidelity music in lossless quality. Streaming your favorite music without compromising sound or data quality was never easier before Tidal. At the same time, Lumin opts to provide high-grade matching components of music to optimize music streaming. Yet, many music lovers are at a loss because they don't know about Lumin Tidal Connect.
If you are a music lover, this content will bring easiness and harmony to your life. Here, you are about to discover the implementable ways to connect Lumin Tidal. Along with this, we will also discuss the innovative tool AudKit Tidal Music Converter so you can enjoy offline music easily.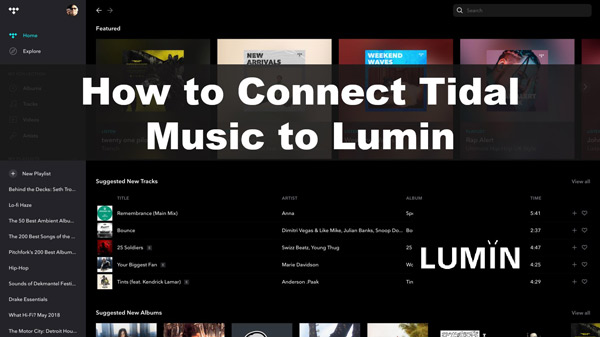 ---
Part 1. How to Stream Tidal Music on Lumin via Tidal Connect
With Tidal music, you can listen to more than 100 million songs along with 650K+ videos. As the technology and craze for music are increasing, Tidal also opts for introducing significantly life-changing features for its users. One of the topmost innovative examples of the modernized feature is Tidal Connect. It is a specialized technology that is built into the Lumin Firmware.
You must be wondering how this is going to help you and boost your music-listening experience. This tech-savvy invention lets you stream diversified songs on Lumin without integrating any third-party app. The point to note here is, Tidal can control versatile music types; however, Lumin can stream music from Tidal servers. If you also wish to experience Tidal Lumin app integration, here is the procedure for this:
Step 1: Initially, access the latest version of Tidal on your device and sign up to continue. Following this, check Lumin Firmware to make sure it is up to date for smooth performance. Next, you need to connect both Tidal and Lumin on the same network.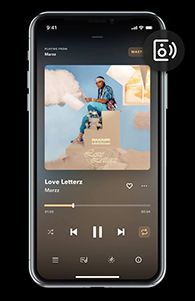 Step 2: Once done with the above procedure, launch the Tidal app and play the music track of your choice. Go to "Device Selector" and from the pop-up list, click on the "Lumin" option to get Tidal to connect Lumin.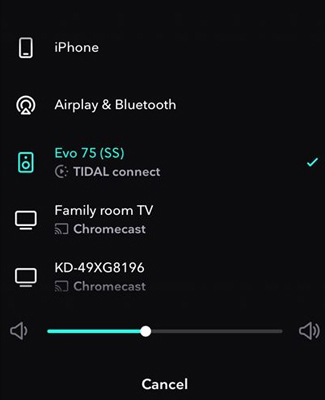 ---
Part 2. How to Play Tidal on Lumin Through Lumin App
By using Lumin, you can play numerous high-resolution formats such as WAV, MQA, and more. It also lets you browse and play the hottest and trendiest music tracks with the smoothest playback. This app also integrates native support for the most known software named Tidal. Thus, you can simply use the Lumin app Android to play Tidal Master.
The procedure listed here will help you to play the music track of Tidal in Lumin without extra effort:
Step 1: To get started, open Tidal within your Lumin App and log in with your account. In case you are not getting this option, go to "Settings", select "Lumin Options" and click on "Tidal Settings".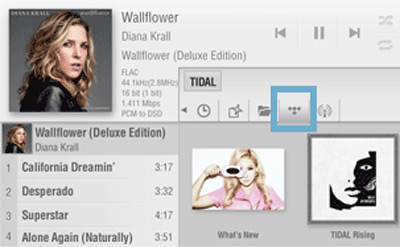 Step 2: Once you are on the "What's New" screen, browse your favorite songs, and you can also use "Search Box" to search the catalog of Tidal.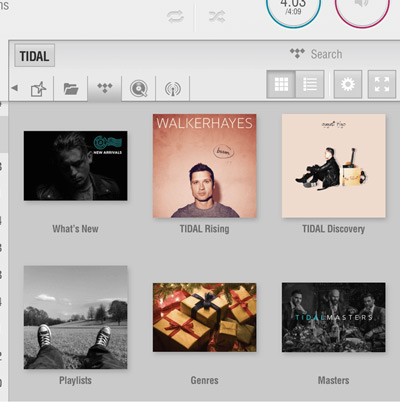 Step 3: Click on the songs from the Tidal browser to play after connecting the account, and the Lumin app should detect your Lumin player. If not, click on the "Settings" icon to edit the setup.
---
Part 3. How to Listen to Tidal Music on Lumin Using Roon
Roon lets you access and enjoy diversified music tracks in one place. This platform is also famous as the place of information, photos, credits, bios, and many other things. It offers you the experience of exploring digitalized magazines when it comes to music classification and trends. You can also use it to listen to the Tidal music on Lumin. The instructions for this purpose are listed here for you:
Step 1: First, sign up for the most innovative platform named Roon, and download it on your device. Next, go to "Settings" from here, access "Services" and add your Tidal username and password to connect Tidal to Roon.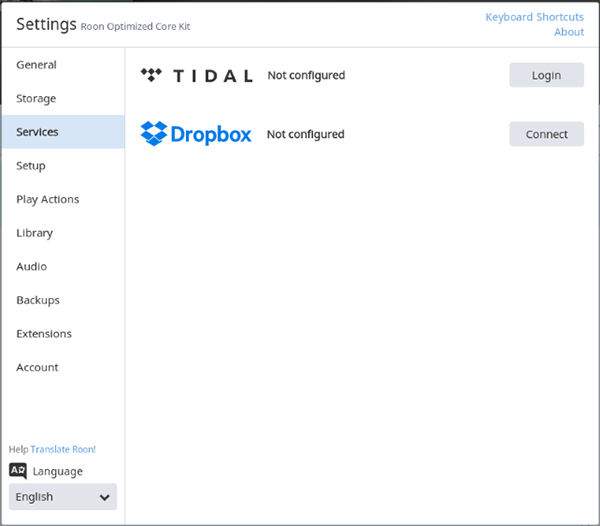 Step 2: Once done, set up the Roon Core and Roon Controller by following the on-screen instructions. After this, it will detect Lumin automatically, and you can set it as the "Playback services." Finally, browse the music of your liking by using the Roon Controller and play it.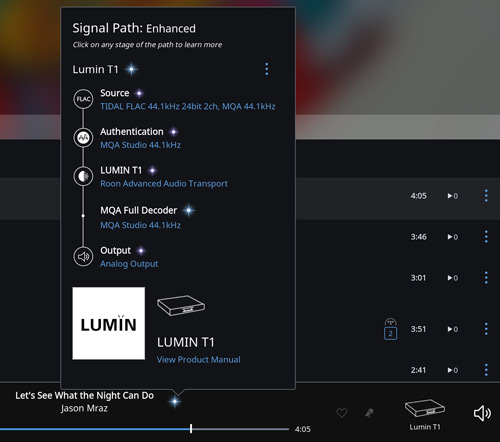 ---
Part 4. How to Connect Lumin to Plex to Play Tidal
Another way to help you with the Lumin app Tidal is the famous platform Plex. This music management service allows you to combine audio, video, or photos. Lumin is also a tech-friendly audio system through which you can discover or connect Plex. Moreover, this can be done without utilizing any configurations. You can see it yourself from the below-given steps:
Step 1: To connect Lumin to Plex for playing Tidal, you need to start a new Plex account with Tidal or link your Tidal to Plex.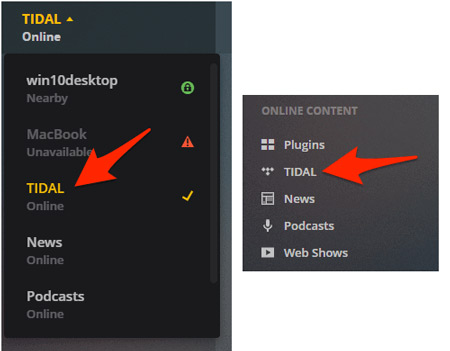 Note: You can refer to more steps on its official page.
Step 2: Hereafter, open Lumin and select "Settings". From here, go to "Lumin Options", and by the "Plex Setting," hit "Sign in" to link Plex with Lumin.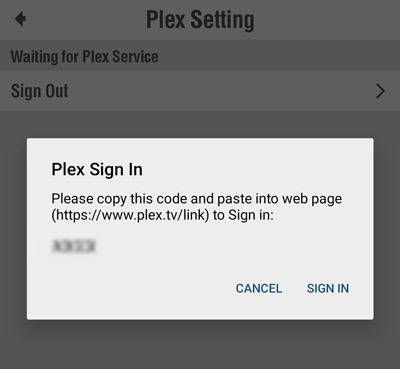 Step 3: Then back to the Plex app, tap the cast icon to choose Lumin as the player to enjoy whatever you wish from Tidal without any interruptions.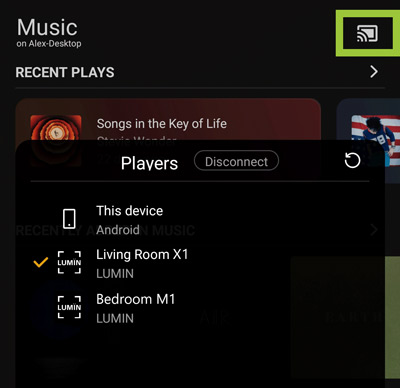 ---
Part 5. How to Use Apple AirPlay to Enjoy Tidal Songs on Lumin
AirPlay works on the basics of watching, listening, and sharing. This app also offers several integrations which let you play music of the highest quality. One of the most wanted integrations of AirPlay is to listen to Tidal songs on Lumin. The understated instructions will further guide you about this:
Step 1: Install the Tidal app on your iOS device and launch it. Login with your account and then explore and play the music of your choice. Next, scroll down from the top right corner to access the Control Centre.
Step 2: To continue, select the "AirPlay" icon and tap the "Lumin" option, and by this, Tidal will be played on Lumin automatically.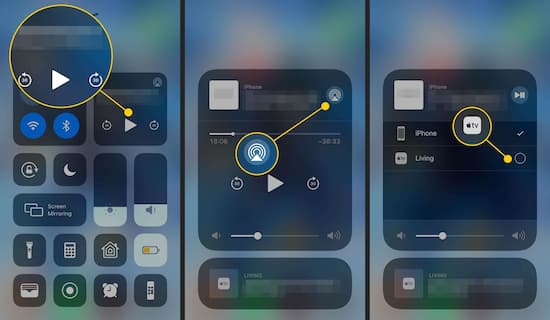 ---
Part 6. How to Download Tidal Music Offline Free
The above methods to enjoy Tidal Lumin on Android/iPhone/PC are Tidal subscriptions-required. Is there any way to play Tidal as the local files? That's the aim of this part. The best service which can be utilized for downloading Tidal music for offline listening is AudKit Tidal Music Converter. It is also known as a one-stop music converter tool. This industry-grade tool converts music from Tidal into several formats, such as MP3, FLAC, M4A, and more.
One of the best and most liked things about AudKit Tidal Music Converter is it does not comprehend any irritable ads. It also has the capability of downloading music files with a Tidal Free account at approximately 5X speed on Windows. The music downloaded with the AudKit app encompasses lossless quality, which is very convenient. It also lets you manage the music files with customization.
One of the examples of customization is, it lets you select the bitrate from 16 different bitrates. As for the other information, such as metadata, names, and artists, it is reserved as default. However, the option to modify the ID3 tags is still here for you.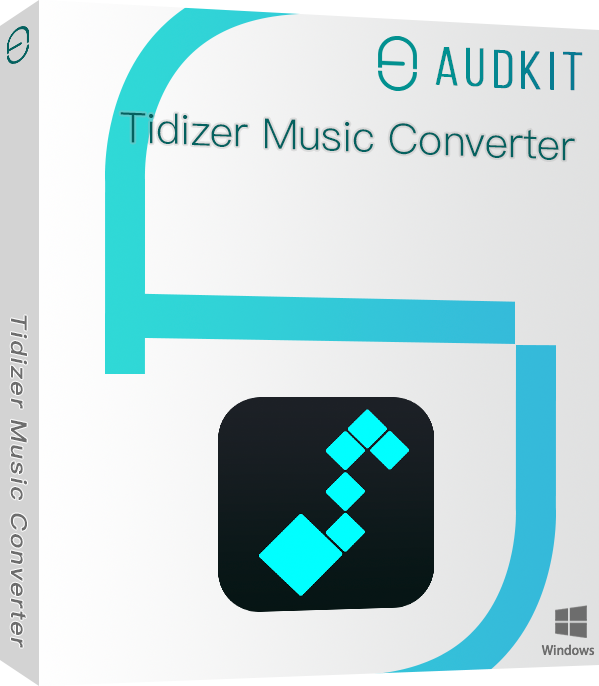 Not only songs but download playlists, albums, etc. from Tidal
Convert Tidal tracks into several formats like FLAC, MP3 and AAC
The Tidal music tracks are downloaded in 100% original quality
Download multiple songs from Tidal offline at 5X faster speed
Procedure to Download Tidal Music with AudKit Tidal Music Converter
The tutorial to download Tidal music without premium with AudKit Tidizer Music Converter is listed here for your ease:
Step 1 Customize the Tidal output format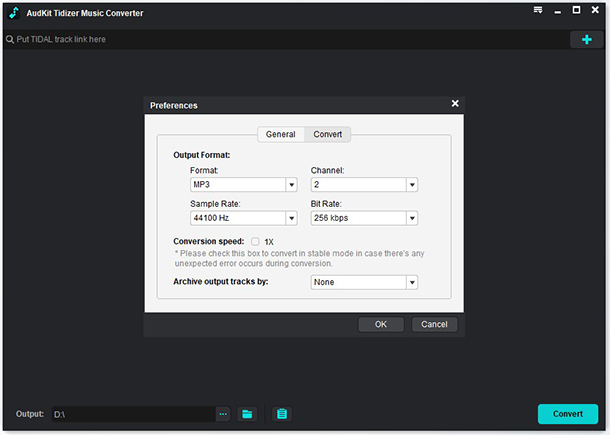 To start the process, click the top right "Menu" after launching the AudKit Tidal Music Converter on your PC. Next, select "Preference" from the appearing options. Go to the "Convert" section, and from here, you can customize the Format, Sample Rate, Channel, and Bitrate. Tap on "OK" once done.
Step 2 Select Tidal songs to add into AudKit software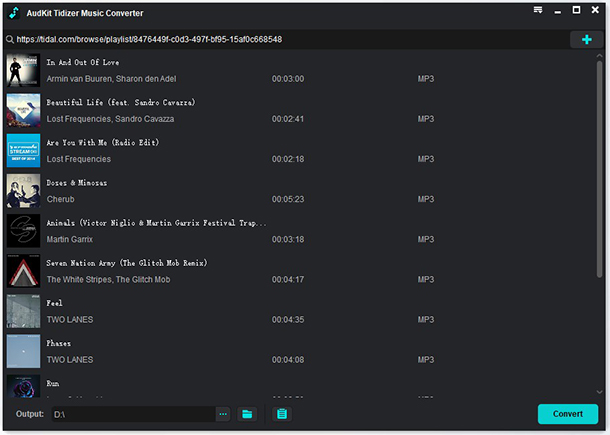 To proceed, you can drag and drop the track from Tidal to the AudKit's main interface, or you can right-click the Tidal song, choose "Share" and select the "Copy Track Link" option. Next, paste the copied link into the Search Bar of AudKit Tidal Music Converter and hit the "+" icon.
Step 3 Run the Tidal conversion for Lumin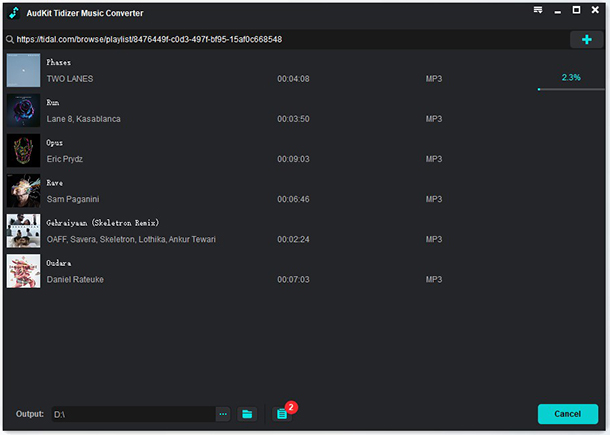 Afterward, tap the "Convert" button located at the interface to start the downloading process. Once all the Tidal songs are converted, check the history list by clicking the "Converted" icon. All your Tidal music files will be saved on your computer. And you can add those files to Plex or Roon and other players to stream Tidal on Lumin without Tidal HiFi.
---
Part 7. Wrapping Up
In the above-mentioned article, you will learn about Lumin Tidal Connect. There are several considerable ways to link Tidal music to Lumin, and the best ones are discussed above. You can follow the instructions for the method that suits you well. However, for listening to offline Tidal music, you can use AudKit Tidal Music Converter which can maintain the sound quality while getting the music files on your local computer.
---