Tidal is a prominent music streaming service providing its subscribers with high-quality audio and video content. However, despite its prominence, there are limitations to the service, including the incapacity to download its exclusive music for offline listening on a desktop. Users who want to listen to their preferred music without an internet connection may find this frustrating. To address this issue, third-party Tidal downloaders such as TiDown have emerged, enabling users to download recordings from Tidal offline.
Having said that, does TiDown still work? As with many other Tidal downloader tools, TiDown Tidal Downloader has been disabled due to copyright infringement concerns. This has caused many Tidal users to seek alternative methods to obtain their preferred music. Several alternatives to Tidal downloaders offer comparable features and functionality. This article will discuss the top TiDown Tidal Downloader alternatives available to users. Here you go!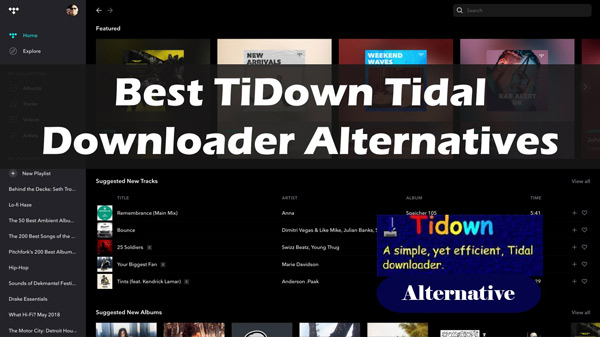 ---
Part 1. Best TiDown Alternative – AudKit Tidal Music Converter
When you need a reliable and feature-rich alternative to TiDown, go no further than AudKit Tidal Music Converter. Users may use a free Tidal account to convert music from Tidal to common audio formats, including MP3, FLAC, WAV, M4A, M4B, and AAC, using this alternative to TiDown. This allows you to choose the most convenient and compatible format for your needs.
AudKit Tidal Music Converter's ability to export lossless sound quality is one of its most notable qualities. Downloaded songs from Tidal sound exactly like the original exclusive Tidal tracks, thanks to its cutting-edge audio recording technology. What's more is that, the tool offers 5X converting speed to save you time and energy on the go.
The ID3 tags of Tidal music, including the names, artists, albums, and album art, of it are fully preserved using AudKit Tidal Music Converter. In this way, you can keep track of the downloaded Tidal files and quickly organize your library for the best listening experience. In addition, the user-friendly interface of the AudKit app allows even those with little technical knowledge to download songs from Tidal to computer with ease.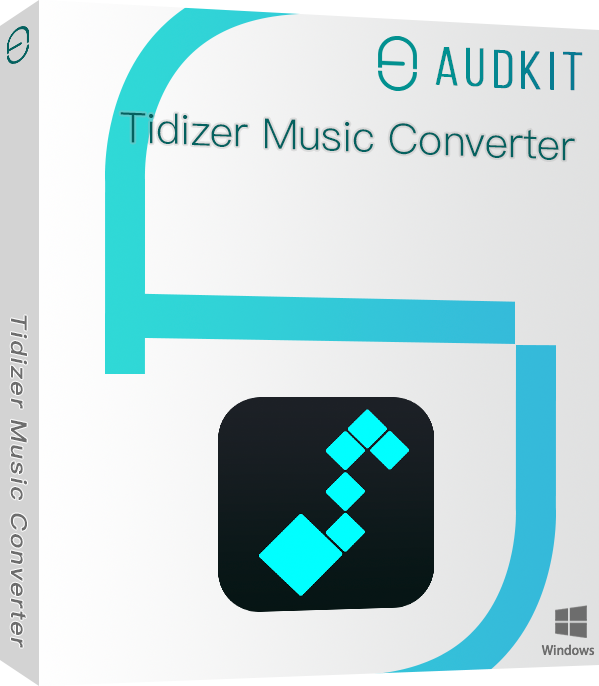 Multiple output formats are supported, such as MP3, FLAC, WAV, etc.
Lossless export to retain the original Tidal audio and ID3 tags
Provide the 5X conversion speed for efficient downloads
Download and play Tidal playlists on the desktop offline
Here's the complete guide to use the amazing AudKit Tidal Music Converter.
Step 1: Open the AudKit official website and tap the "Download" button to install the AudKit Tidal Music Converter on your Mac or Windows computer. Launch it on your device to get started.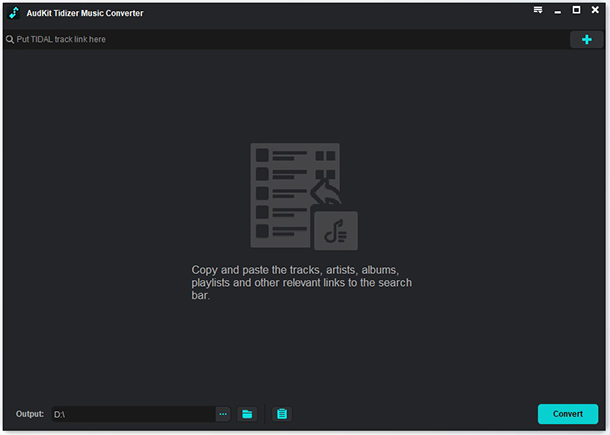 Step 2: From the top menu bar, click Preferences > Convert to customize the output parameters for Tidal music. To convert Tidal to MP3 or other audio files, change the output format. And to enhance the audio quality, personalize channels, sample rate, bit rate, etc., according to your requirements. After that, click OK.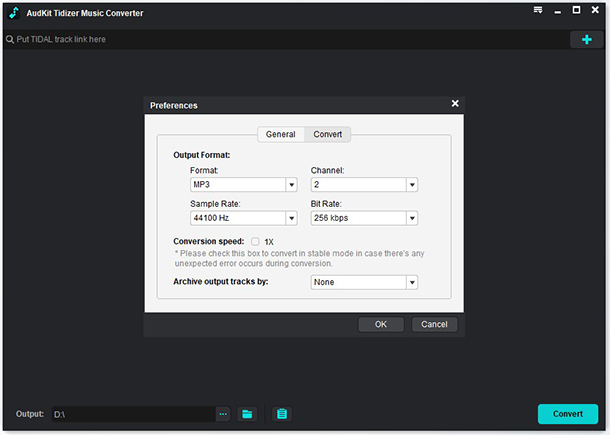 Step 3: Now, to import media select tracks, albums, and playlists from your Tidal library, right-click on the songs, select Share and Copy Track Link. Paste this URL into the search bar of AudKit Tidal Music Converter, and tap the "+" sign. Or you can drag and drop Tidal songs into the converter to add them.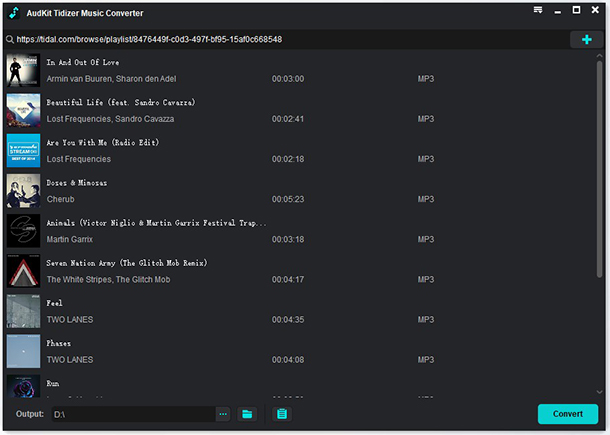 Step 4: In the end, click on the Convert button in the lower-right corner. AudKit Tidal Music Converter will start the conversion right away.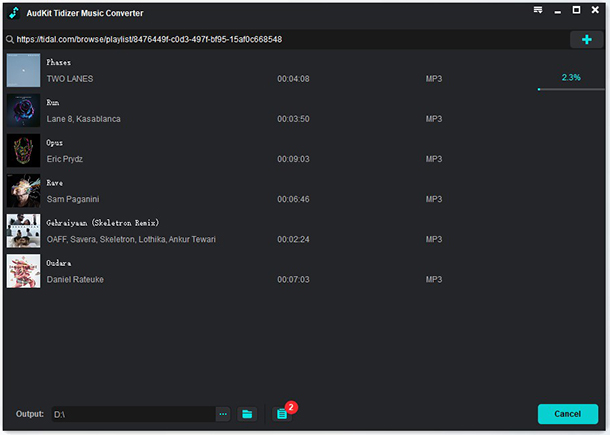 ---
Part 2. TiDown Downloader Alternatives Free Online
Since Tidown download is not available anymore, we also find some online and free Tidal downloaders as its alternatives. Below are the three tools that we shortlisted:
1. Apowersoft Free Online Audio Recorder
To record music from Tidal and save it as an audio file in various formats, you may utilize Apowersoft Free Online Audio Recorder, a free online program. This alternative to TiDown Tidal Downloader is user-friendly and doesn't need any complicated setup. A user needs just visit the website, choose the appropriate recording options and format, and then begin capturing music from Tidal.
MP3, AAC, FLAC, and more formats are only a few of the many that may be exported using Apowersoft Recorder. In addition, it allows you to tweak the technical aspects of your recordings, such as loudness and quality. The simplicity of usage is one of Apowersoft Recorder's most notable qualities. The straightforward design of the app makes it a breeze to explore and capture tracks from Tidal.
In addition, Apowersoft Recorder works with Chrome, Firefox, and Safari, allowing it to be used by a large audience. However, the sound quality may not be as excellent as with other Tidal downloader options that capture lossless music straight from Tidal since Apowersoft Recorder depends on capturing audio played over the computer's speakers.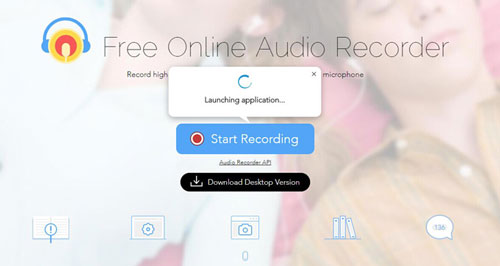 Key Features
No installation or registration required
Various output formats (MP3, AAC, FLAC)
Adjust recording settings (volume, quality)
Compatible with most popular browsers
Pros
No software installation required
Easy to use
Supports various output formats
Cons
Sound quality is not as good as other tools
2. Tidal-gui & Tidal-dl
Download Tidal music and videos using Tidal-gui or Tidal-dl program which are free and open-source. They are TiDown GitHub alternative that you can find online. The utility supports high-quality music and video downloads, album art and information retrieval, and more; it is available for Windows, macOS, and Linux.
Tidal-gui and Tidal-dl stand out because they can record lossless music and video from Tidal, guaranteeing the downloaded material's high quality. The output formats supported by the utility are extensive and may include FLAC, MP4, and M4A. New features and problem fixes are often introduced to Tidal-gui and Tidal-dl, and the software is updated regularly. Tidal-gui and Tidal-dl are two options for downloading from Tidal, however, it's important to remember that they may need more technical expertise to install and set up than other Tidal downloaders.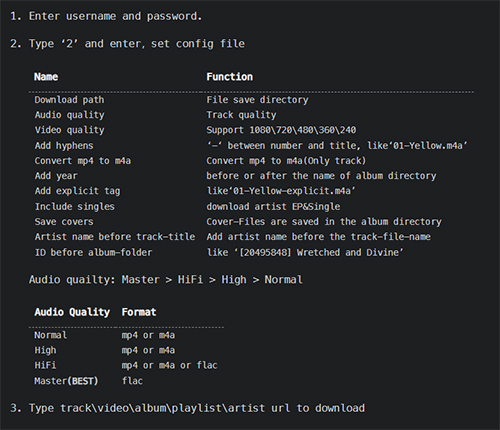 Key Features
Lossless audio and video download
Various output formats FLAC, MP4, M4A
Album art and metadata retrieval
Regularly updated with new features
Pros
Lossless audio and video download
Regular updates
Album art and metadata retrieval
Cons
Installation and setup may be complex
Need to download Tidal with HiFi subscriptions
3. Athame Tidal Downloader
If you're looking for a free alternative to TiDown downloader that still lets you download high-quality tracks from Tidal, go no further than Athame Tidal Downloader. The program can convert Tidal to FLAC and MP3 file types. The Athame Tidal Downloader has an intuitive interface that makes downloading and organizing material from Tidal easier. By copying the URL of the Tidal song, you can start to convert it locally after adding the URL. Due to its free nature, Athame Tidal Downloader may not be updated often enough, leaving users vulnerable to glitches and incompatibilities.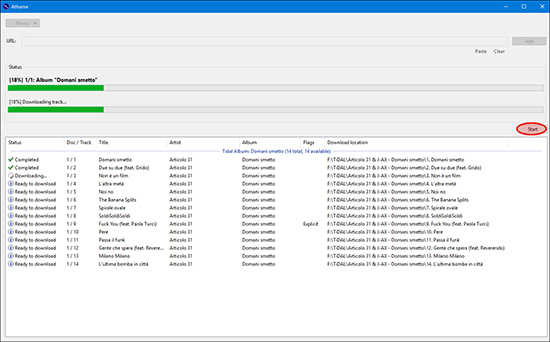 Key Features
High-quality audio download
Supports various output formats (MP3, FLAC)
Free to download playlists from Tidal and Google Play Music
Pros
Free to use
Use Tidal URL to download music offline
Support multiple OS devices
Cons
Might not receive regular updates
Limited audio format supported
---
Part 3. In Conclusion
TiDown Tidal Downloader alternatives provide various solutions for people looking to download their favorite Tidal tunes. Users may choose the Tidal downloader that best meets their requirements, ranging from free internet applications like Apowersoft Recorder and Tidal-gui and Tidal-dl to specialized software like Athame Tidal Downloader.
However, AudKit Tidal Music Converter is the clear winner among these choices. The AudKit app provides exceptional versatility and simplicity with the ability to download and convert Tidal music to several output formats, including lossless quality and a 5X conversion speed. It can not only guarantee the sound quality of Tidal songs, but, most importantly, get your favorite Tidal play lists offline anytime without Tidal plans.
---