If you feel comfortable listening to books, Audible is a great source of reading material. And Audible has released the app for iOS and Android, Mac and Windows. But this app, like any other app, is bound to have some glitches, like Audible constantly stopping. Remember, there is no such thing as a perfect app!
Since people often complain about Audible stopping all the time, we'll explore different solutions to help you solve the problem of Audible keeps stopping. You'll also learn about a permanent solution at the end of the article to listen to Audible audiobooks as often as you want.
---
Part 1. Why Does Audible Keep Stopping
Some Audible users may be asking the question, why does my Audible keep stopping? Before we officially begin, we will answer your confusion. Here are the common reasons why Audible keeps stopping.
1. Lack of a proper Internet connection. Audible requires a stable source of the Internet connection to ensure that you experience the best that Audible has to offer. When you listen to Audible audiobooks with an improper Internet connection, you will face an issue with Audible keeps stopping.
2. System storage space. When you have less storage space on your device, Audible will keep stopping. And when you try to download an Audible book, it can't store temporary information.
3. Device locked. When your device is automatically locked, the Audible application is less likely to close, but it can cause an interruption to your listening and may corrupt the file. In addition, it can cause the Audible app to crash.
---
Part 2. How to Fix Audible Keeps Stopping Issue for Android/iOS
After the above discussion, you should understand the common factors of why Audible app keeps stopping. If you are looking for solutions, then here are some things you can try to ensure that the Audible app is working properly.
Solution 1: Restart/Re-open Audible
When you listen to your favorite audiobooks and the Audible keeps stopping, we recommend that you restart the app as a first action.
Step 1. Close the Audible app, then press and hold your phone's power button to bring up the options.
Step 2. Select the "Power Off/Power Down" feature. Remember to wait at least one minute before restarting your device.
Step 3. Launch the Audible software and try playing an Audible book to see if the problem persists.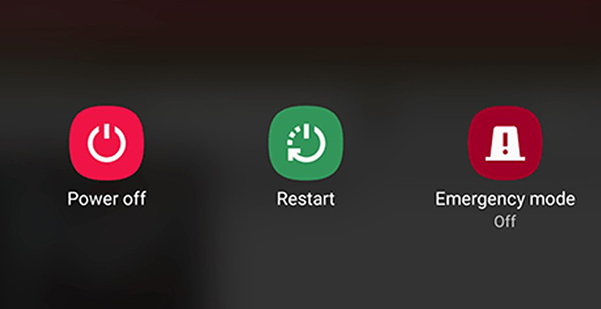 Solution 2: Try a Different Audible Book
Why does Audible keep stopping even after a restart? If there is an issue with a particular audiobook, it may stop. To know if the problem is with a specific Audible audiobook, try a new book and see if the app is crashing.
Solution 3: Disable Auto-Lock
The question of why does Audible keep stopping on iPhone when locked comes up when you do not have a subscription to the app that supports the playback of a file when the phone is locked.
If you do not have a subscription to Audible, the app stops the playback whenever the device gets locked. Disabling the device's auto-lock is a better way to avoid such a situation.
For iOS devices:
Step 1. Open the Settings app on your iOS device and select the "Display & Brightness" tab.
Step 2. Tap on the Display Settings features and select the Auto-Lock option.
Step 3. Choose "Never" for the timer to stop auto-lock.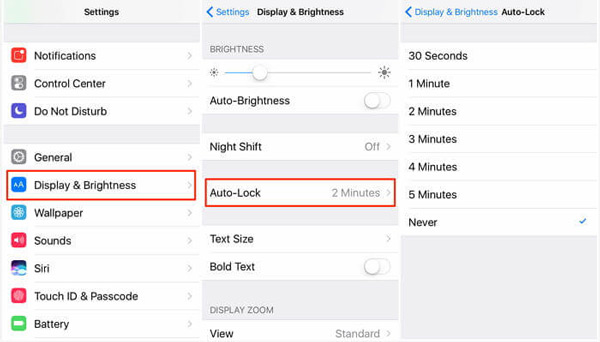 For Android devices:
Step 1. Open the Settings app option on your Android phone and click on the Display feature.
Step 2. Select Display Settings and search for the Sleep option to change the setting to "Never".
Note: Each Android version has different menu options and arrangements. Ensure to check the process for your Android version online.
Solution 4: Reinstall Audible and Free Storage Space
A better way to ensure that the Audible app keeps stopping in the future is by performing a clean reinstallation. It will delete all the existing collection of books and helps you download them once again.
For iPhone: Settings > General > Storage (select Audible to delete the app)
For Android: Settings > Storage Unit > Applications Manager (Select Audible and uninstall)
After uninstalling is complete, head to Play Store or App Store and download Audible again. Use your login credentials to restore the books that you have purchased.
Solution 5: Check Your Internet Connection
If the Audible keeps stopping, then it is time to check for the Internet connection. It is possible to download audiobooks and listen to them offline whenever needed. However, if you are listening to an audiobook online, ensure that you have a proper Internet connection.
---
Part 3. How to Solve Audible Keeps Stopping Forever
Let's assume that Audible still stops working after going through the solutions discussed above, in this case, it's time to look for a permanent solution. You might want to try AudKit Audible Converter, which has the ability to help you permanently avoid any problems with the Audible application as long as you want.
In fact, this professional tool can be used to convert Audible audiobooks to any audio format, like MP3, AAC, WAV and other common audio formats. Once the conversion is done, you can transfer Audible books to any device you like for offline listening without Audible software. This way, you perfectly avoid any issue that occurs in the Audible app, including the Audible keeps stopping problem.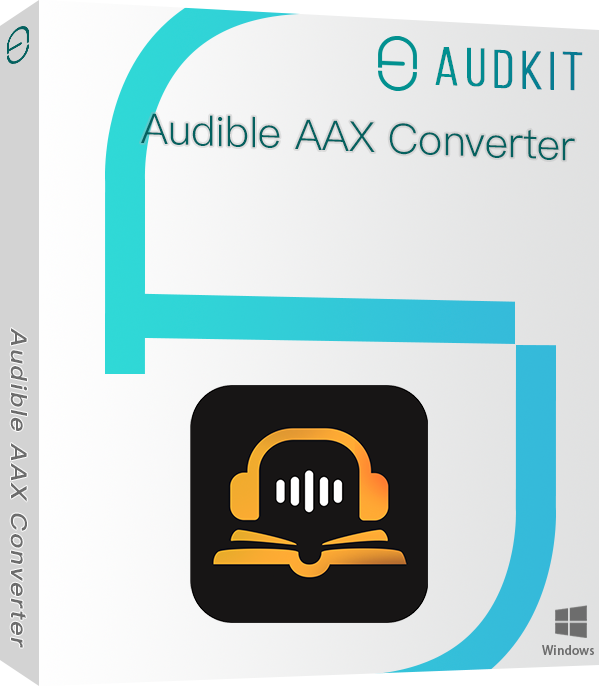 Support multiple audio output formats, such as MP3, AAC, WAV
Download Audible books in their original quality locally
Convert Audible books with 100x speed and retain ID3 tags
Customize parameters as needed, like sample rate, bit rate and codec
How to Fix Audible Keeps Stopping Forever by AudKit Audible AAX Converter
Step 1 Import Audible books to AudKit AAX Converter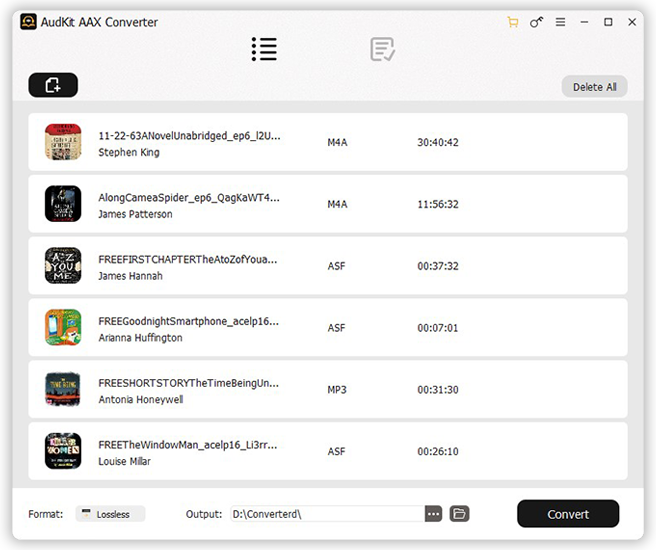 After installing AudKit AAX Converter on your desktop, launch it and click the "Add Files" button. Select all the necessary audiobooks you want to convert, or drag and drop Audible files to the conversion window directly.
Step 2 Change Audible format settings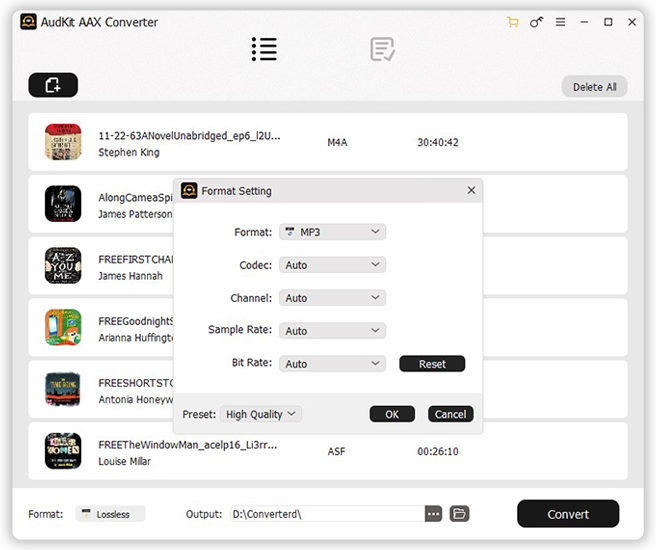 You can change the parameters by clicking on the "Format" button. Here you can set the output format of Audible AAX to MP3, FLAC, WAV, AAC and other formats. If needed, you can also customize other audio parameters such as sample rate, bit rate, etc.
Step 3 Edit Audible tags information and effect, etc.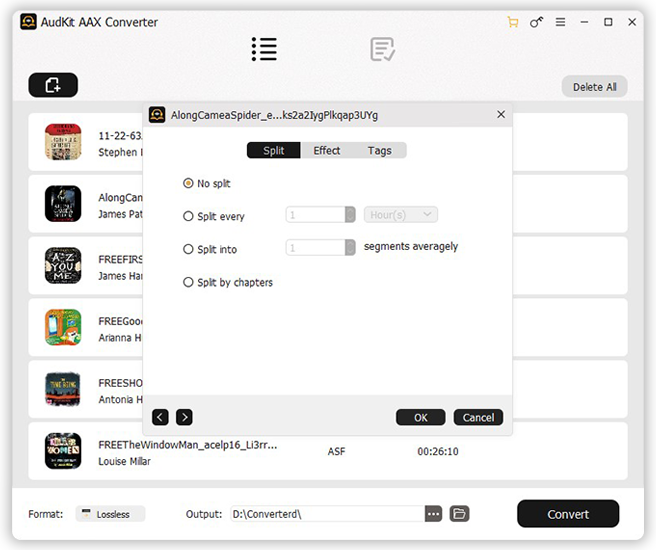 You can customize an audiobook with ID3 tags such as title, artist, album, etc. by clicking the Edit button. Likewise, using the Split button, you can split a large audiobook into smaller sections to your liking. You can also apply fade-in and fade-out effects to Audible books if you select the "Effect" button.
Step 4 Convert audiobooks to fix the Audible keeps stopping issue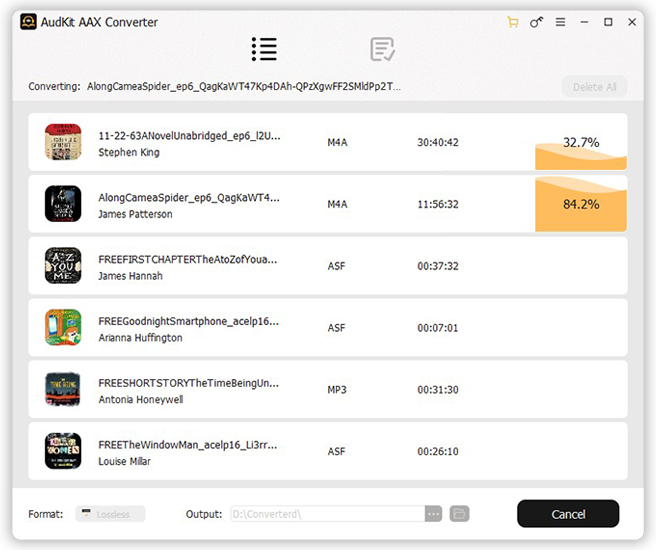 Start the conversion process by clicking the "Convert" button. Then AudKit Audible Converter runs at 100x speed without destroying the original quality. When finished, press the folder icon to open the destination folder containing the audiobooks in order to use them freely. In turn, you can listen to Audible books freely without worrying about Audible keeps stopping.
---
Part 4. Conclusion
Now, you should be able to overcome the problem that Audible keeps stopping. In this article, you have learned about the different solutions that help to solve the issue. Besides, you have a permanent solution that will help you download and listen to Audible offline whenever and wherever you want. With AudKit Audible Converter, you can fix the Audible app keeps stopping errors and store Audible books on your computer forever.
---