What better way to connect and heal us than by listening to music? Yes, you heard that right. Spotify allows you to listen to Spotify together as your friends, even if they live far away from you.
Spotify has recently introduced some handy features to enhance the group listening experience. Spotify has made it easier for users around the world to connect through virtual music parties.
In this post, we've listed 5 different ways to listen to and share Spotify music with your friends. So read on to explore quick and easy tutorials to help you.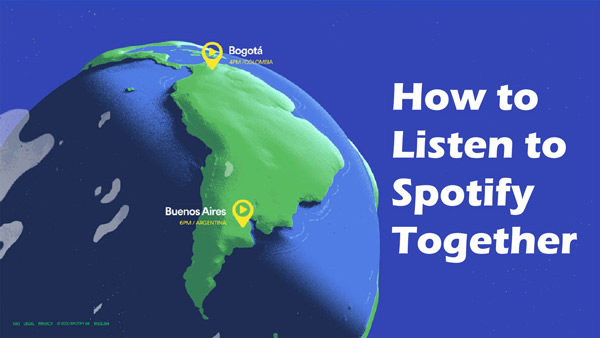 ---
Way 1. By Group Session
Spotify Group Sessions is a new built-in feature exclusively for Spotify Premium users. It allows you and your pals to enjoy the same song or podcast in real time. With Spotify Group Meetings, you can invite up to seven premium users to a listening party. Best of all, all those involved can play, pause, and even select new songs or playlists. While the feature is still not active on desktops, Android and iOS users can benefit from it. Follow the steps on how to listen together on Spotify via Group Session.
Step 1: Open the Spotify app on your device.
Step 2: Choose to play a song from your favorite playlist.
Step 3: Now, click on the Spotify Connect icon (speaker sitting in front of a screen) at the bottom-left corner.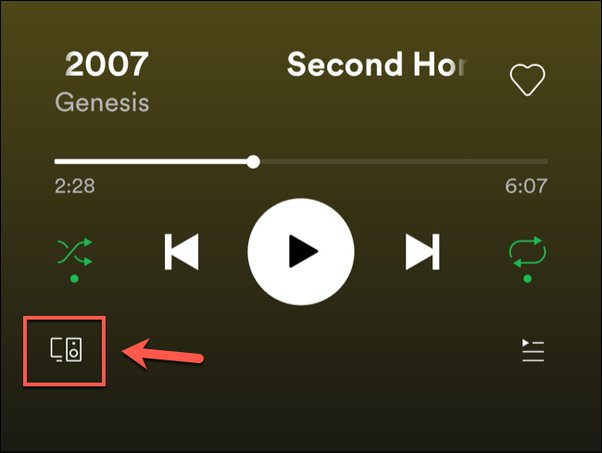 Step 4: On the following screen, scroll down to find the Start a remote group session option. Then enable Multiple people can join and control this speaker button for speaker listening session.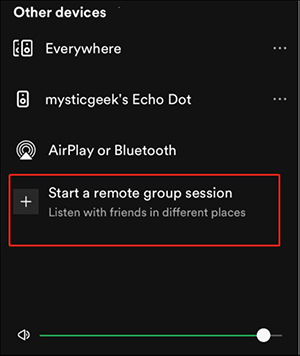 Step 5: Press the Invite friends button to get started. Or tap the avatar at the bottom to add additional friends to an already started group session.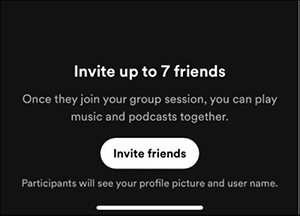 Step 6: Now choose how you want to share the invites. Directly send the link via text message or copy the link to paste it anywhere.
Once invited, your friends can listen on their devices together with you.
Step 7: To leave or end a group session, press the left-facing arrow button on the top to go back.
Step 8: Hit the Spotify connect button again. Then scroll down and tap End Session.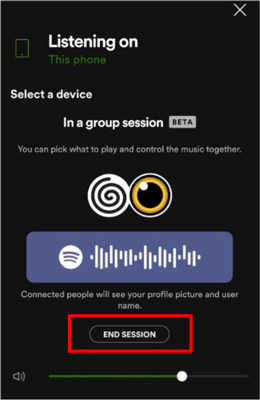 ---
Way 2. By Friends Activity
Another interesting way of listening together on Spotify is via Friends Activity. Friends Activity shows what your friends are playing on the Spotify desktop app. This neat feature gives listeners a handful of details like what their friends are currently listening to. Not to mention, you can also pick anything from your friend's library and save it to your own. Users can connect with others having similar interests to create amazing music communities. Here's how you can follow your friends' activity on Spotify to listen to Spotify together.
Step 1: Launch the Spotify desktop app on your PC.
Step 2: Tap the drop-down arrow at the top-right corner of the screen and select Settings.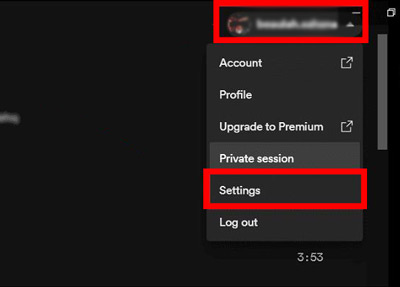 Step 3: Navigate to the Display section.
Step 4: Toggle the See what your friends are playing option to green. The friend activity sidebar will pop up on the right side of the screen.

Step 5: If you don't want to share your listening activity with friends, click on the drop-down arrow at the top-right and select Settings. Scroll down to the Social section and disable Show my listening activity on Spotify.
---
Way 3. By Spotify Blend
Spotify Blend heightens your listening Spotify together experience with its personalization capabilities. Up to 10 Spotify users create a shared playlist that mixes songs from their personal libraries for everyone. What piques our interest is that you also have a chance at blending with an official artist. The blend playlist automatically updates every day according to your listening habits. Moreover, its "Taste match" rating is one of a kind, which shows how you and your friends in the blend have similar or unique music tastes. So, try listening to Spotify together with your friend by making a blend.
Step 1: On the Spotify main interface, enter Blend in the search bar at the bottom of the screen.
Step 2: Select the Create a Blend option.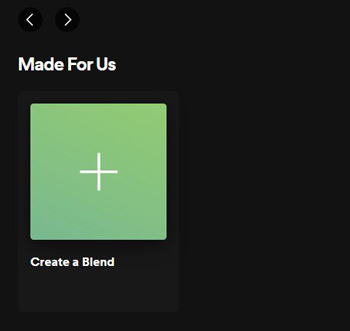 Step 3: Now tap Invite and choose friends you want to blend with.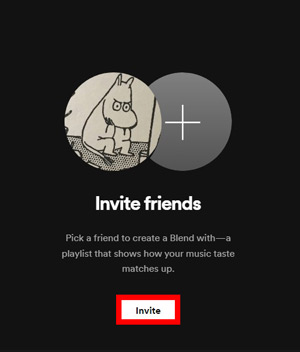 Step 4: Once all your friends accept the invite, your blend playlist will appear right away.
Step 5: To find your blend, go to Made for you under the Browse all section. Or navigate to the Playlists category and open Your Library.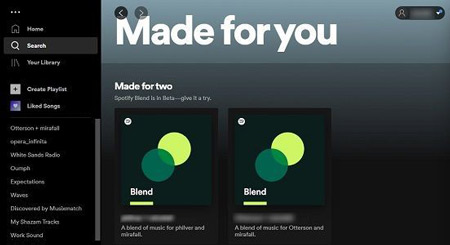 ---
Way 4. By Sharing on Other Platforms
Imagine pounding music in sync with your pounding heart during a video game raid. Listening to Spotify together with your gaming buddies during an intense game can lift the mood. To that end, Spotify has added a clever integration with Discord to share and play upbeat music in game chat. In addition, premium users can now listen to Spotify together on Festify. Festify is a Spotify-powered platform where you can host a party for your distant friends and let everyone take control of smartphones. Not sure how you can do this? No worries, we've got you covered. Below is how to listen to music together on Spotify on Discord and Festify.
On Discord
Step 1: Launch the Discord app and log in.
Step 2: Tap the Gear icon at the right of your avatar and open User Settings.
Step 3: Scroll down and navigate to Connections. Then choose the Spotify option and add your Spotify login credentials.

Step 4: On the pop-up window, confirm to connect Discord and Spotify.
Step 5: Toggle to enable the Display on Profile and Display Spotify as your status options.

Step 6: Next, open the Spotify app and start playing a song.
Step 7: Head to the Discord screen and tap the + icon and select the friends you want to listen with.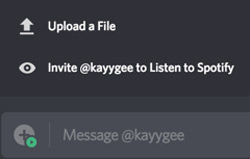 Step 8: Under the Listen Along Invite option, hit Send invite to enjoy Spotify on Discord.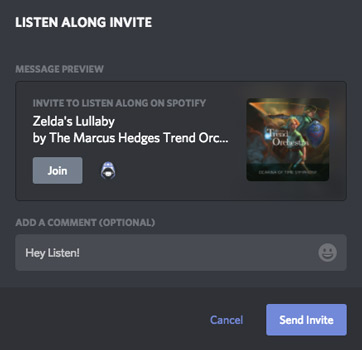 On Festify
Step 1: Open Festify on your browser and tap Create a party.
Step 2: On the next window, enter your Spotify ID and password to log in. You will get a part code.
Step 3: Share the part code with your friends and ask them to enter it on their mobile browsers to get started with the party.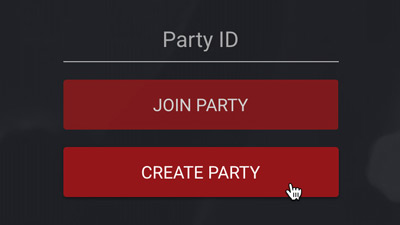 ---
Way 5. By Sharing with Your Friends
Spotify Group Session and Spotify Blend are amazing features to enjoy hi-fi Spotify music together with friends. However, they are only available for Spotify Premium subscribers. Are you not one of the lucky ones? No need to be disheartened. AudKit SpotiLab Music Converter allows you to share your favorite Spotify music with your friends without having a premium account.
AudKit SpotiLab Music Converter is a powerful tool that downloads Spotify music to computer for offline playback. Using this tool, you can convert your favorite Spotify tracks, playlists or podcasts to MP3 and other popular audio formats including AAC, M4A, M4B, etc. Once converted, you can share and enjoy Spotify music with your friends anywhere and everywhere.
The tool offers batch conversion with a 5X conversion speed. What's more, AudKit SpotiLab is designed with a user-friendly interface and advanced technology for quick and lossless conversion. During the process, it preserves the ID3 tags and keeps 100% original sound quality.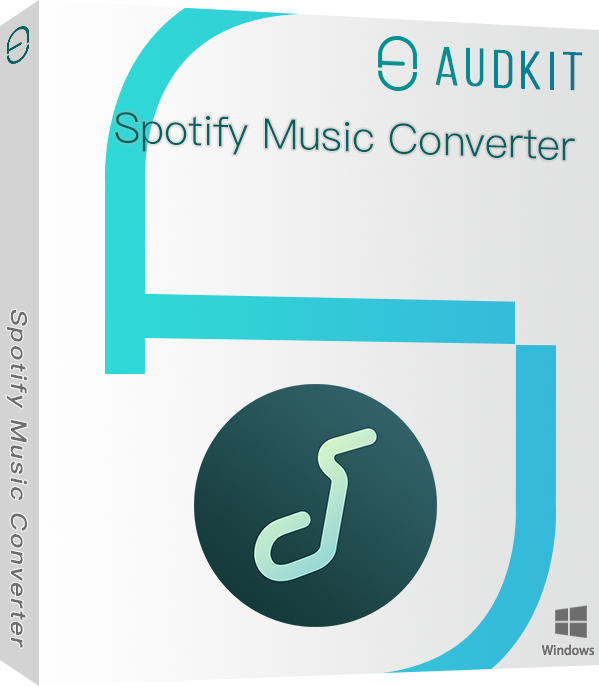 Convert and share Spotify music in various formats such as MP3, etc.
Export 100% original sound quality with a 5X speed
Keep ID3 tags intact during the conversion process
Customizable output parameters to support multi-devices
Below is a detailed step-by-step guide to using AudKIt SpotiLab Music Converter to share Spotify music together.
Step 1: Download and install the AudKit SpotiLab Converter tool on your PC and launch it.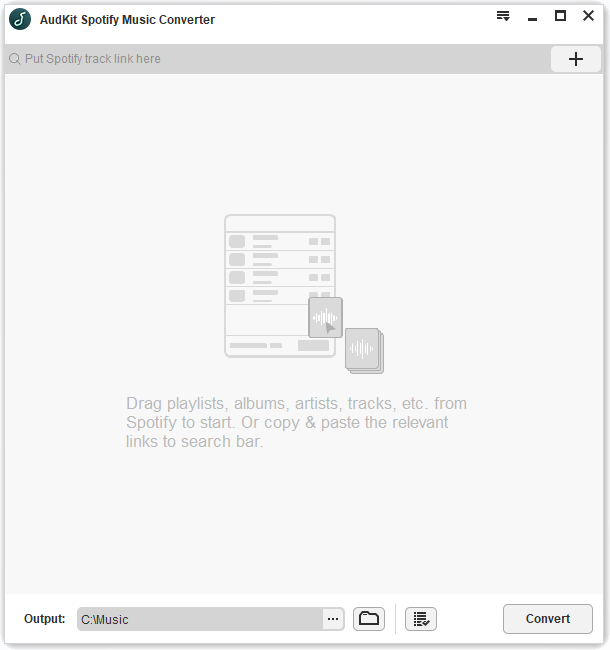 Step 2: Now, head to the Spotify app and select the song you wish to convert. Then tap the Share icon to copy the song or playlist link. Go back to the AudKit Spotilab interface and paste the URL into the address bar and click on the + icon.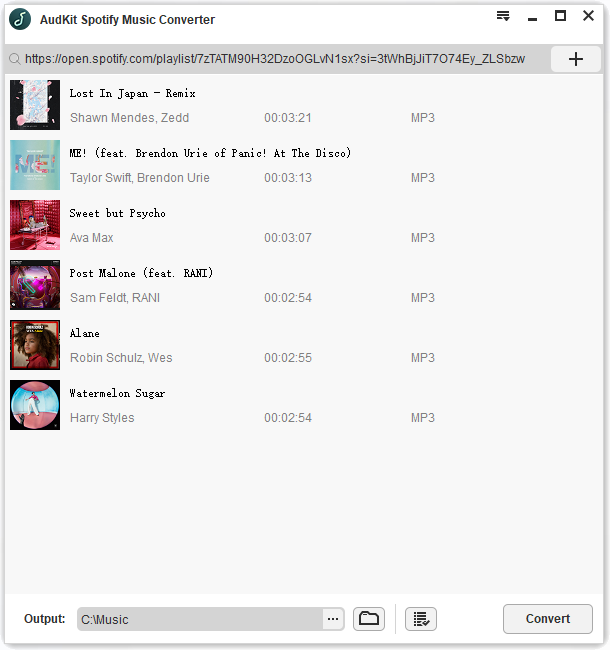 Step 3: Next, navigate to Menu and open Preferences > Convert. On the next window, adjust the output format, sample rate, bit rate, etc. to customize output according to your needs. Hit OK.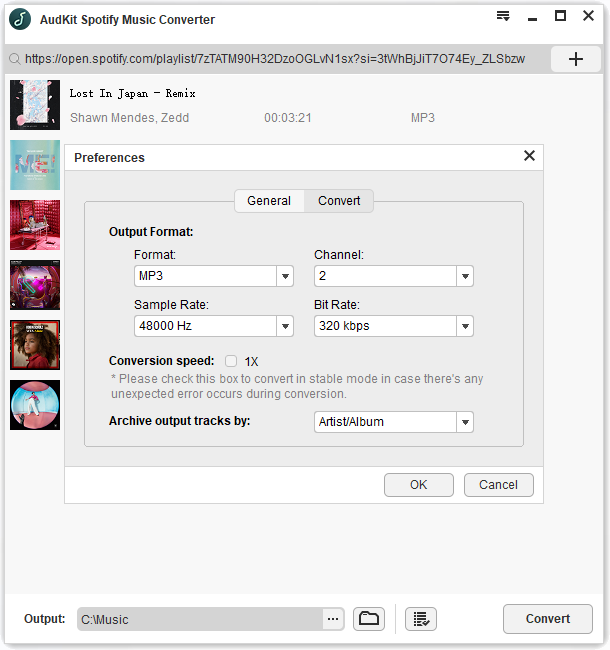 Step 4: Once set up, click on the Convert button. After a few minutes, your Spotify song will be downloaded and ready to be shared with your friends.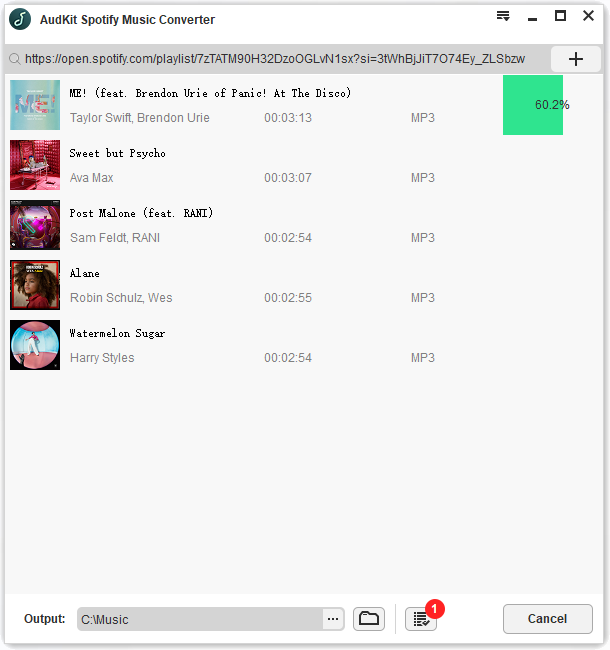 ---
Conclusion
As you can see, there are quite a few ways to listen to Spotify together with your friends. You can create a mix with your favorite artists, or make a collaborative playlist with your friends' activity data on Spotify. Even better, you can use AudKit SpotiLab Music Converter to download high-fidelity Spotify tracks and share them with your friends. You don't need a Spotify Premium membership to listen to music offline with your friends.
---