Numark is among the big names in the circle of DJing, currently the largest manufacturer of DJ equipment. It has been in operation for over 40 years and is generally the first to adopt new advanced technologies in the DJ mixing experience. Numark DJ is created for DJs, suitable for music mixing, turntables, and speaker enclosures, among others. When you add these revolutionary products with Tidal, you are sure to get cutting-edge performance. How then can you get Tidal Numark DJ?
Well, Tidal harbors over 100 million tracks, numerous videos, and other files. You can definitely make it big when you incorporate Tidal and Numark DJ. Hang on to the next section to learn more.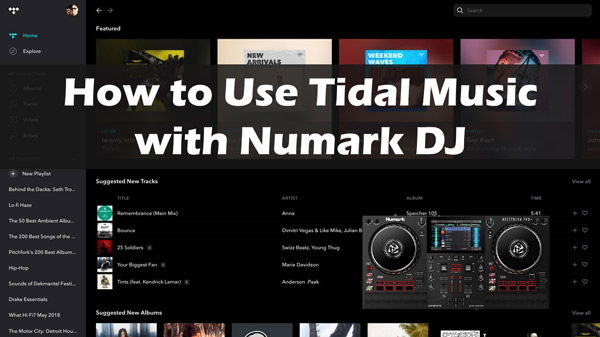 ---
Part 1. How to Play Tidal Music on Numark DJ with Subscriptions
The first option to connect Tidal to Numark is via the official way. The Numark DJ devices with Serato DJ Pro now have the ability to access Tidal. As long as you have a Tidal subscription, you are good to go. Here are the steps on how to get Tidal on Serato DJ for Numark.
Step 1. Launch Serato DJ Pro on your device then press the Gear button. Next, tap on the WiFi option on the touchscreen and select the network you wish to connect to. Then enter the WiFi password and hit on the Connect option.
Step 2. Go to Settings and click on Library + Display on the shown window.

Step 3. Under the Music Streaming part, you should make sure Tidal is connected and select the Tidal platform to stream your music from.

Step 4. Back to the main screen, you can select songs from Tidal playlists on the left side and add them for playing Tidal on Numark DJ.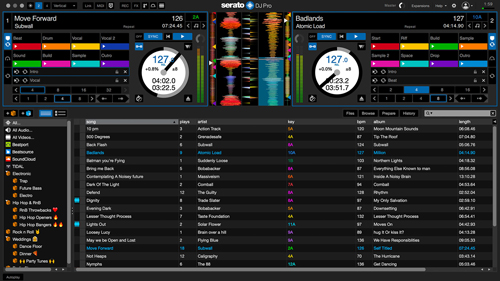 ---
Part 2. FAQs for Tidal Numark DJ
Here are some commonly asked questions on the Tidal Numark DJ program.
Q1. What Music Quality Can You Play with Tidal and Numark?
The quality of music you can stream with Tidal and Numark is related to your Tidal subscription. HiFi subscribers can stream at High Quality (AAC) while HiFi Plus subscribers can choose between High Quality (AAC) and HiFi Quality (FLAC).
Q2. Can You Use Tidal Music with Numark DJ Offline?
No, the offline Tidal music cannot be available with Numark DJ due to the offline mode feature is not supported on the devices. You can only search and stream online songs from Tidal with your Tidal plan.
Q3. What DJ Software Works with Tidal?
The Tidal service is supported by many DJ software, such as Djay Pro, Denon DJ, DJUCED, Pioneer DJ, etc. All give you unlimited access to work with Tidal and access to its catalog of music videos. You can freely stream and mix songs once you connect Tidal to the DJ applications.
---
Part 3. How to Use Tidal Music Offline on Numark DJ
There is a smart way to use Tidal on Numark DJ if you intend to use Tidal music offline. Easily download and convert Tidal tracks with AudKit Tidizer Music Converter. It supports downloading tracks from Tidal offline to the computer with a free Tidal account. And it will losslessly convert Tidal tracks to common output formats like WAV, M4A, and MP3 which are compatible with Numark.
It comprises a smart ID3 tags editor that will keep metadata information of the original Tidal tracks. More so, it runs at a 5X batch conversion speed to help you quickly convert a 10-hour Tidal playlist in just 2 hours. When it comes to customizing the output, the AudKit app allows you to set parameters to your taste. You can personalize the sample rate, bitrate, and speed. After the conversion, those Tidal songs are good to go. You can manage them on multiple devices and players offline, including DJ software, Smart TVs, game consoles, movie editors, and MP3 players, among others.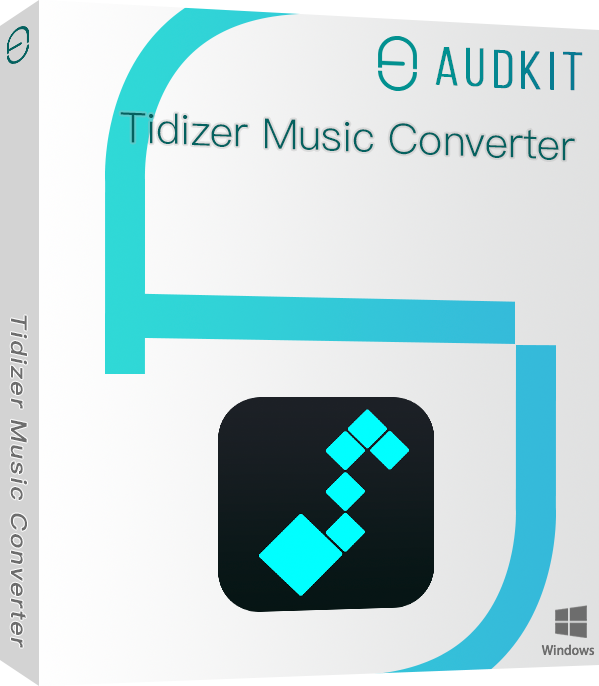 Available on both Mac and Windows computers
Capture and keep 100% ID3 tags and audio quality of Tidal songs
Customize the Tidal output format to the one supported by Numark
Use Tidal on Numark DJ without a network connection
To enjoy Numark DJ Tidal offline, the first thing is to download the AudKit Tidal Music Converter application on your device. Click the "Download" option from the above to install it. You will then need to unlock its advanced features by registering it. Click on the Menu > Register tab to copy and paste the licensed email and registration code into the responsive bars.
Once get ready, stick to the following steps to complete your conversion process.
Step 1 Set Tidal music format for Numark DJ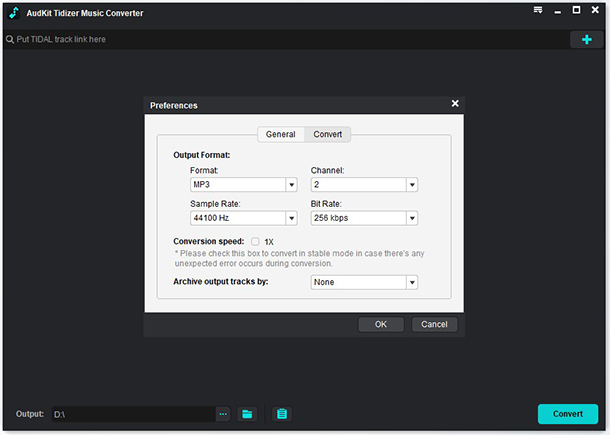 On the AudKit Tidal Music Converter, click on the "Menu" tab and go to the "Preferences" > "Convert" option. Then go on to choose the output format to change Tidal to MP3, WAV, or M4A as well as customize the parameters like channel, sample rate, and speed. Then, tap on "OK" to preserve those settings.
Step 2 Choose Tidal playlists to download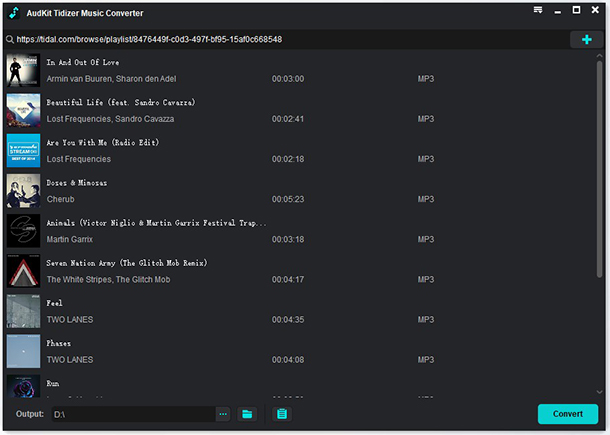 Choose which Tidal songs you want to convert to a common output format from the Tidal application. Then, right-click on the track and select the "Share" and then "Copy Track Link" options. Next, paste the copied link into the search bar of the AudKit converter and hit on the "+" tab to add the files.
Step 3 Convert Tidal music for Numark DJ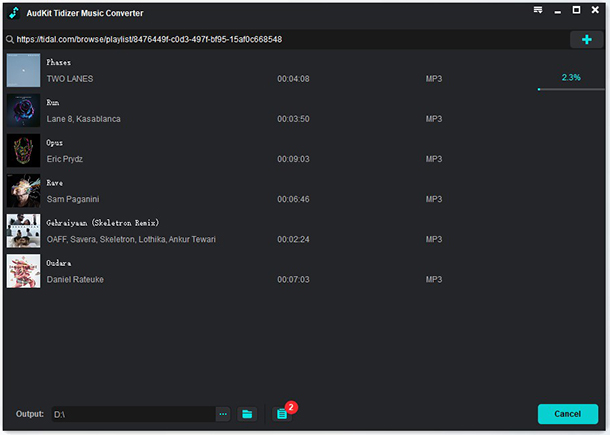 Finally, click on the "Convert" tab and the AudKit software will begin to download Tidal playlists to a set common output format. You can then locate the converted Tidal songs from your computer's local disk. Freely stream them on Numark DJ and do your music mixing without further issues.
Step 4 Stream Tidal on Numark DJ offline

You now have the converted Tidal tracks and you can use them on your Numark device easily. Just open your Serato DJ software on your computer, tap the File options from the panel, locate what folder you store your Tidal files, and then choose any track to play and mix other music as you DJ.
---
Part 4. In Conclusion
You can spice up your DJing experience with the Tidal Numark DJ integration. You can mix your favorite hits from Tidal online with ease regardless of your level of DJ. And if you find that you cannot use your Tidal downloads offline, worry less as you can bank on the best converter – AudKit Tidal Music Converter – to download and convert Tidal to the formats that are streamable on Numark DJ.
---