Due to high-fidelity sound, hi-def video quality, and expertly curated playlists and original content, Tidal attracts more and more audiophiles to explore music on its platform. However, some users experience issues with the app, such as 'Tidal keeps logging me out'. These problems can be frustrating and interfere with your enjoyment of your favorite tunes. Fortunately, there are some quick fixes that usually work to resolve these issues and get you back to listening to music on Tidal.
In this article, we will show you how to fix Tidal keeps logging you out on your smartphone, whether you have an Android or iOS device. We will also explain why you will meet such a problem and how to avoid happening again. By following these simple steps, you will be able to enjoy Tidal without any interruptions or hassles.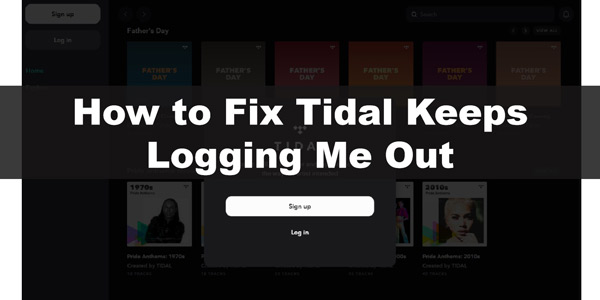 ---
Part 1. Why Tidal Keeps Logging Me Out? Reasons!
There are several possible reasons why Tidal keeps logging you out on your device. You can check them out below:
Expired session – Sometimes, Tidal can log you out automatically after a certain period of inactivity or when you switch devices. This is to protect your account from unauthorized access and ensure that you are not exceeding the number of devices allowed by your subscription plan.
Unstable internet connection – If Tidal keeps lagging or logging you out while you're out and about, there are several reasons. You may not have a very stable internet connection. In that case, you can download Tidal music onto your device for seamless offline playback.
Outdated app version – Finally, Tidal can log you out if you are using an outdated version of the app that is not compatible with the latest features or bug fixes. To fix this, make sure you update the app regularly from the Google Play Store or the App Store.
---
Part 2. How to Fix Tidal Keeps Signed Me Out
Don't worry if Tidal keeps signing you out of your account every time you want to listen to music. There are various simple options you can take to resolve this issue and continue using Tidal uninterrupted. Here are the steps you can take:
1. Check Your Internet Connection
First and foremost, ascertain that you have a reliable and fast internet connection, whether through Wi-Fi or mobile data. If your signal is poor or unreliable, you should download music from Tidal you wish to listen to offline for continuous listening.
To do so, press the three dots next to the album, playlist, or track you wish to download and choose the "Download" option. In the app settings, go to "Streaming & Downloading" and modify the download quality.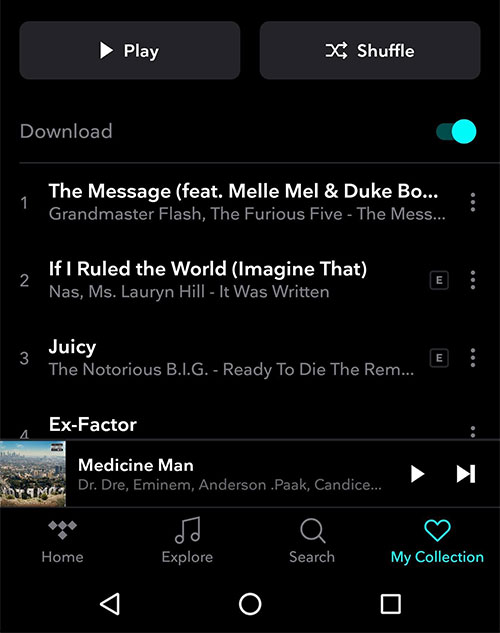 2. Update the Tidal App
Can't login to Tidal, please check that you have the most recent Tidal app version loaded on your device. You can check the Google Play Store or the App Store for updates.
Also, ensure that automatic updates are enabled in your device settings so that you do not miss any new updates. The app's performance and stability will also improve with an update.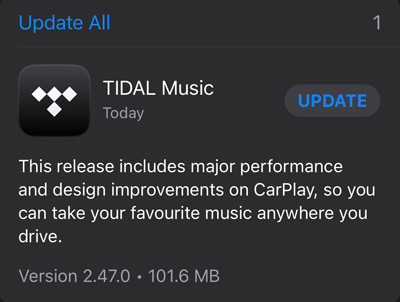 3. Clear the App Data and Cache
You will log out of Tidal automatically if the app data on your device is faulty or out of date. This might cause the app to crash or malfunction. You can try wiping the app data and cache on your smartphone to resolve this. This will clear off any temporary files that are creating issues and free up some storage space.
To do so, go to your device's settings, locate the Tidal app, and choose "Clear data" and "Clear cache" to clear the Tidal cache. Then, restart the app and sign in once again.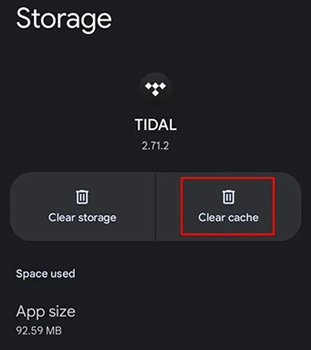 4. Reinstall the app
If none of the above procedures work, you can choose to reinstall the program on your device. This will eliminate any flaws or issues that can be affecting the app. To do so, go to your device's settings, locate the Tidal app, and choose "Uninstall".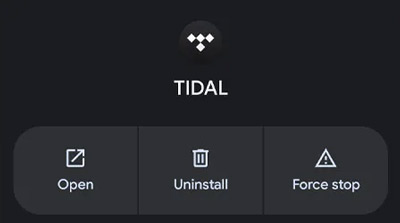 Then, go back to the Google Play Store or the App Store and reinstall the app. Sign in using your email and password after downloading the app, or use the "Continue with Facebook" or "Continue with Apple" choices if you have connected your account to those platforms.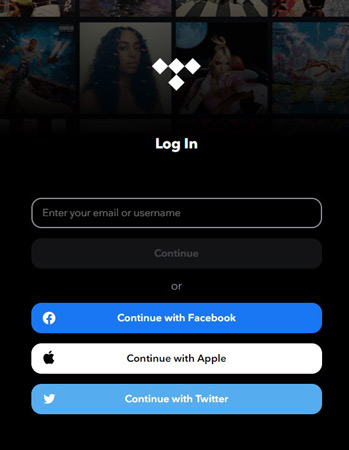 ---
Part 3. How to Prevent Tidal Keeps Logging Me Out Issue from Happen Again
Still facing the "Tidal logged me out" issue? Using a professional tool like AudKit Tidal Music Converter is one of the greatest methods to avoid Tidal from logging you out again. This reliable converter tool allows you to download and convert Tidal songs to popular audio formats such as MP3, FLAC, WAV, AAC, and others for offline playing on any device or player.
AudKit Tidal Music Converter comes with powerful technology that keeps Tidal music's original sound quality, including Master and HiFi quality. For the best part, it converts Tidal music up to 5X quicker on a Windows PC and 1X faster on a Mac. It can also bulk convert Tidal playlists or albums, saving you a significant amount of time and work. What's more, it retains the original ID3 tags for easy navigation of the downloaded songs.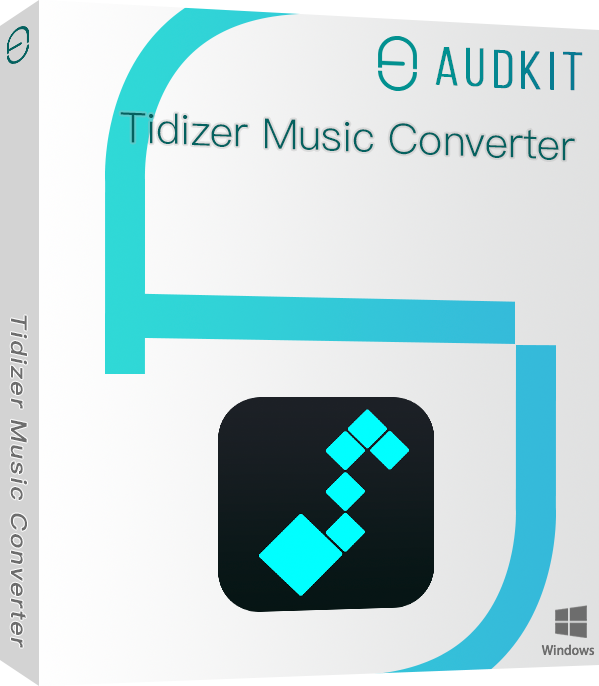 Convert Tidal audios to MP3, AAC, M4A, WAV, and FLAC
Batch download Tidal with 5X conversion speed
Keep Hi-Fi audio quality and ID3 tags after conversion
Available for both Windows and Mac users
Follow this quick tutorial to use it.
Step 1: Download and launch AudKit Tidal Music Converter on your device.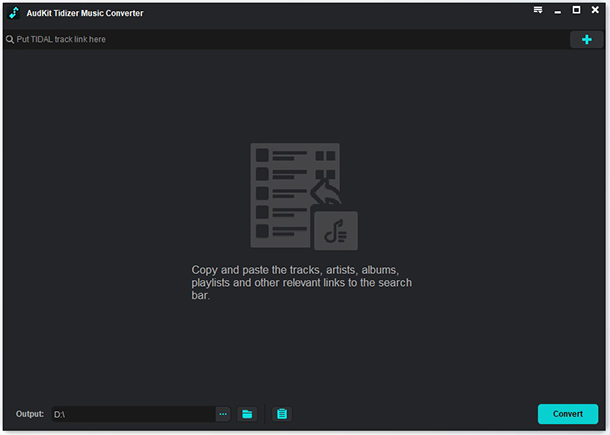 Step 2: To customize Tidal's output format and other parameters, select the Preference button at the top menu bar. Then head to the Convert and make the necessary changes.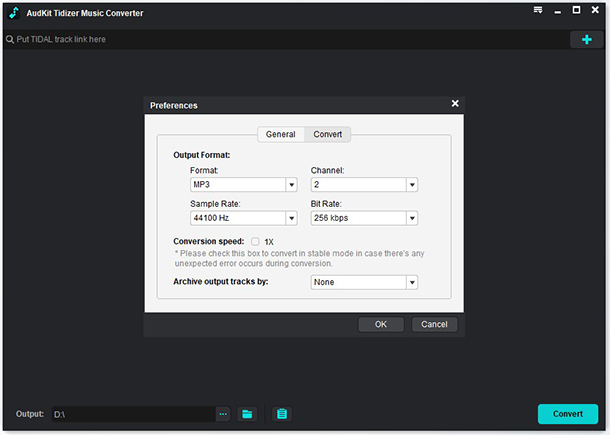 Step 3: Next, go to the Tidal main screen and copy and paste the URLs of the music and playlists you want to download into the search field. By using the '+' button, you may add new links.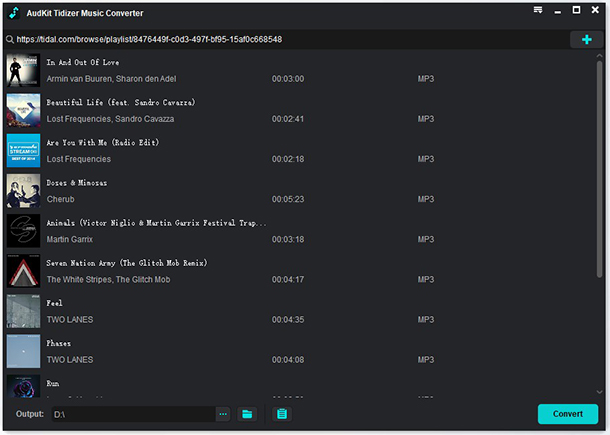 Step 4: When you've saved all of your preferences, click the Convert button at the bottom-right corner to begin the high-speed downloading procedure. After that, you can sign out of Tidal app, and use any music player to play Tidal music forever.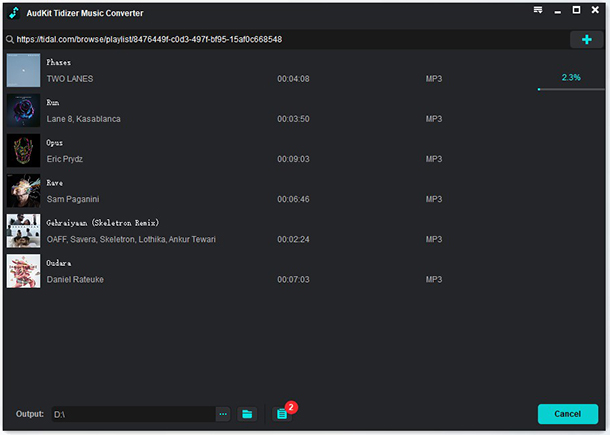 ---
Part 4. In Conclusion
That's all! Tidal is an exceptional music platform. But like every technical program, it has its complications. The good thing is now you know a handful of easy solutions to the annoying problem "Tidal keeps logging me out".
When all other fixes fail, the best solution is to use AudKit Tidal Music Converter. Use it to download and convert Tidal music to common audio formats and enjoy an amazing listening experience without interruptions or complications.
---