Music streaming services are all about convenience. Now that the CDs and vinyl records are gone, online streaming platforms offer on-demand access to millions of tracks and playlists at the tap of a touchscreen. As a result, streaming services are increasing day by day, making it difficult for true music lovers to figure out which service works the best.
Therefore, we have decided to compare two popular names in the streaming industry, Tidal vs Rhapsody. While both these services have their fair share of subscribers, certain advantages, features, and perks must be considered when deciding which service to go with. To help you, this article will provide an in-depth comparison between Tidal and Rhapsody on technical grounds. So, read ahead!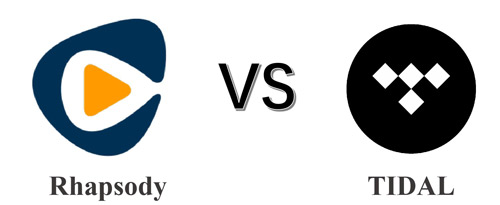 ---
Part 1. Tidal vs Rhapsody: All-around Comparisons
Tidal vs Rhapsody – Overview
Tidal stands out among the competitive streaming services with its exceptional Hi-Fidelity lossless audio quality. With over 90 million songs and more than 450 K official music videos, Tidal is a top-tier choice for 60 million music streaming fans. Tidal also offers high-tier subscriptions that add support for super hi-res Dolby Atmos tracks, Sony 360 Reality Audio, and MQA (Master Quality Authenticated) tracks. Another interesting is the Tidal Connect which allows you to stream high-quality Tidal music to a variety of devices via Wi-Fi. Even with all these amazing features, this music app is a no-brainer – thanks to its monotonous and easy-to-use interface design.
While you may not know, Rhapsody was the first-ever music subscription service that offered unlimited digital music with enhanced audio quality. And even today, it prides itself on connecting 3.5+ million users with the artists they love. Apart from an expansive music library of 40 million songs, Rhapsody personalizes your music experience by recommending curated playlists, albums, artists, and more. Although subscribers do not complain, Rhapsody's sound quality is mainstream, with a bit rate of 192 kbps. The music service also appeals to many for its parental control as well as explicit content control features.
Tidal vs Rhapsody – Subscription Fee
Tidal takes onboard people from all walks of the streaming industry by offering a bunch of feature-packed subscription plans: Tidal HiFi and HiFi Plus. But if you look into Rhapsody's service plans, you won't be disappointed.
SUBSCRIPTION
SERVICE
TIDAL
Hi-Fi: $9.99/month
Family Hi-Fi: $14.99/month
Hi-Fi lossless audio
Offline Listening
90+M songs and videos
Track and share playlists
Hi-Fi Plus: $19.99/month
Family Hi-Fi Plus$29.99/month
Hi-Fi lossless audio
Offline Listening
90+M songs and videos
Track and share playlists
Immersive audio formats (Dolby Atmos, Sony 360 Reality Audio, MQA)
RHAPSODY
UnRadio: $4.99/month
Radio personalization
Ad-free listening
Unlimited Skips
Premium: $9.99/month
Home audio listening
Ad-free experience
Download tracks
Rhapsody vs Tidal – Audio Quality
In a nutshell, Tidal's sound quality is a pure musical pleasure – of course, lossless audio is the justification. On the contrary, Rhapsody offers only a decent quality. Here is a quick overview of both streaming services' audio quality.
TIDAL
RHAPSODY
Maximum Bit Rate
Tidal Hi-Fi: 1411 kbps
Tidal Hi-Fi Plus: 9216 kbps
192 kbps
Lossless Audio
Yes
No
Tidal vs Rhapsody – Interface
The Tidal vs Rhapsody user interface has slight variations, especially in its color code. Intuitively, Tidal's interface is a bit darker, ambiguous, and aesthetically pleasing. On the other hand, Rhapsody has a white and clear design that's easy on the eyes.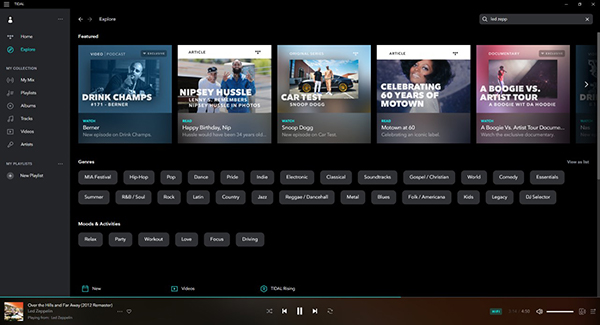 Getting started on the computer application of Tidal is fairly easy, given the service has an all-around interface with basic control options on the go. Moreover, it also offers options like Connect to Facebook and Cast to connected devices. Likewise, Rhapsody's desktop design has accessible features such as genres, featured blog posts, new releases, charts, and other info on its homepage.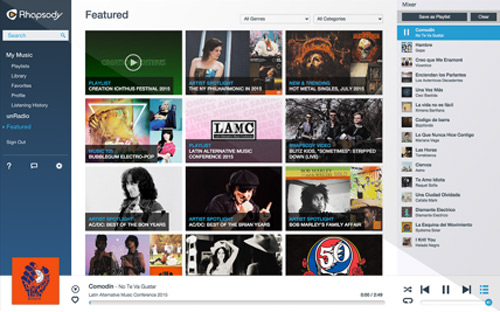 Tidal vs Rhapsody – Device Compatibility
Rhapsody supports music streaming on iPhone, iPad, Windows, Mac, and Blackberry, as well as MP3 players. Additionally, the service even allows you to download songs and playlists directly to your device.
Tidal is available on a large majority of devices. Tidal tracks and videos can be played on Mac, Windows, Apple TV, Samsung TV, Fire TV, Android TV, Vizio, CarPlay, wear OS, Chromecast, Roku, iOS and Android phones, Alexa, and more. However, that's not the be-all and end-all for Tidal.
Now, Tidal's device compatibility can be enhanced to enjoy Hi-Fi music on virtually any device. All thanks to the AudKit Tidizer Music Converter. As the name suggests, AudKit is a top-notch music converter tool that allows you to download exclusive Tidal songs in plain audio formats such as MP3, M4A, M4B, and more. If you are concerned about the audio quality, don't be. AudKit Tidizer's advanced technology offers 100% lossless conversion for an extraordinary listening experience.
How to Improve Tidal's Compatibility
Step 1: Download and install the AudKit Tidizer Music Converter on your computer.
Step 2: Go to Preferences > Convert to open the settings window and customize the output format, sample rate, bit rate, etc. Then click OK.
Step 3: To import media, select the playlists and songs from your Tidal music library and press Share. Then copy the link, paste it on AudKit Tidizer's search bar, and press the + icon.
Step 4: Simply click the Convert button, and your Tidal music will be converted in a few minutes. Then you can transfer the converted Tidal songs to any other device without limitations.
---
Part 2. Tidal vs Rhapsody: Comparison Table
Not a fan of details? Don't worry. For the procrastinators among you, we have summarized the above-mentioned essential parameters of Tidal and Rhapsody in this quick comparison table. Take a look.
PARAMETERS
TIDAL
RHAPSODY
Subscription Fee
Tidal Hi-Fi: $9.99/month
Tidal Hi-Fi Plus: $19.99/month
Rhapsody UnRadio: $4.99/month
Rhapsody Premium: $9.99/month
Interface
Dark and ambiguous
Bright and clear
Catalog Size
90+ M tracks & official music videos
40 million songs
Free Trial
Yes
Yes
Free Trial Period
30 Days
14-30 Days
Audio Bitrate
Tidal Hi-Fi: 1411 kbps
Tidal Hi-Fi Plus: 9216 kbps
192 kbps
Platforms Supported
Web, iPhone, iPad, Android
Web, iPhone, iPad, iPod Touch, Android
---
Extra Tips: How to Download Tidal Music without a Tidal Subscription
Don't want to pay for a Tidal subscription? You can still use the free version. However, the free version lasts only for 30 days and does not allow you to download Tidal music for offline playback. This is where AudKit Tidizer Music Converter comes in handy. This all-in-one music converter allows you to download and enjoy Tidal music offline without the expensive Tidal subscription.
For the best part, AudKit Tidizer supports all popular audio formats, including MP3, AAC, FLAC, WAV, M4B, M4A, and many more. On top of that, the conversion process is 100% lossless. That is to say; the downloaded Tidal music does not lose the original Hi-Fi and MQA sound quality.
An interesting feature for the newbies is a batch conversion with AudKit Tidizer Music Converter. Even if you have huge playlists, this powerful will load it all at once and convert with 5X lightning speed. Finally, it also keeps the original ID3 tags and raw metadata intact, allowing for better music organization.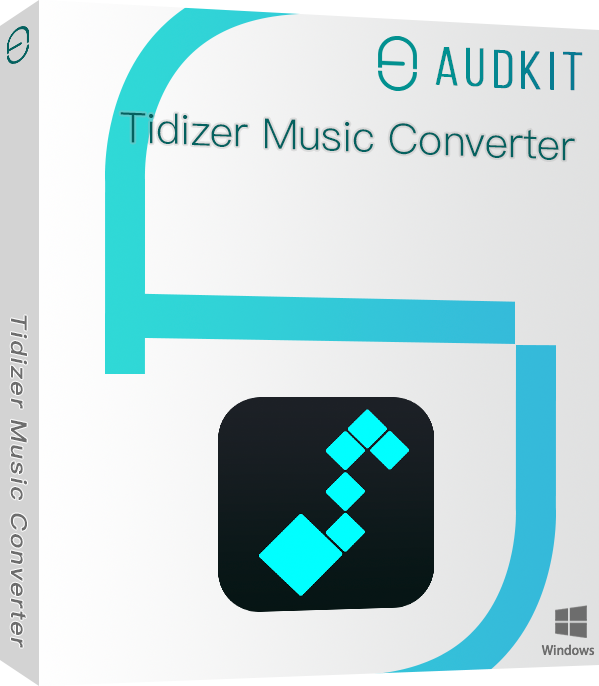 Download Tidal music without premium as local audio files
Organize downloaded tracks using original ID3 tags
Batch convert huge playlists with 5X faster speed
Keep lossless Hi-Fi Tidal audio quality
Take a look at how to use the AudKit Tidal Music Converter in 3 easy steps.
Step 1: Begin by downloading the AudKit Tidizer Music Converter on your Mac or Windows. On its top menu, click Preferences and open the Convert tab. Here make changes to the output format, bit rate, sample rate, archive type, etc., according to your requirements. Then confirm the settings by clicking OK.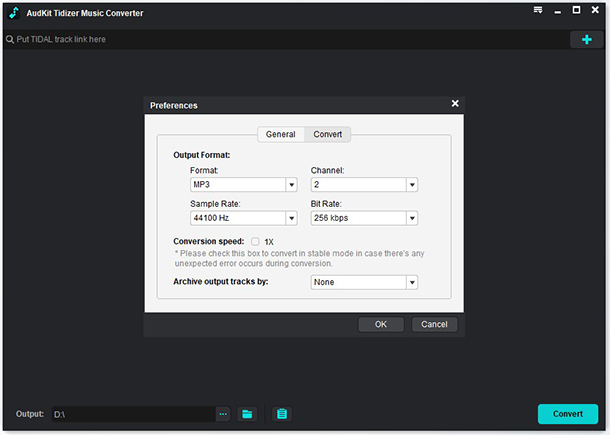 Step 2: Now, you want to upload Tidal songs on AudKit. Open the Tidal app and browse the music library to select your favorite songs. Once chosen, press the Share > Copy link. You can paste this link on AudKit Tidizer's top address bar and click on '+' to load it. Or, simply drag and drop the selected items.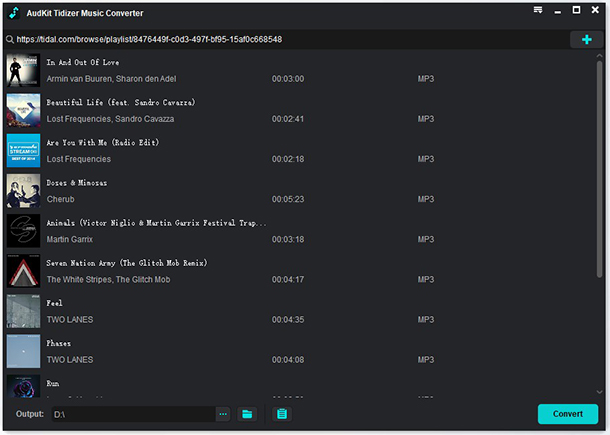 Step 3: After everything is ready, hit the Convert button to start the conversion process. When the process completes, locate the downloaded Tidal songs and enjoy offline playback without a subscription.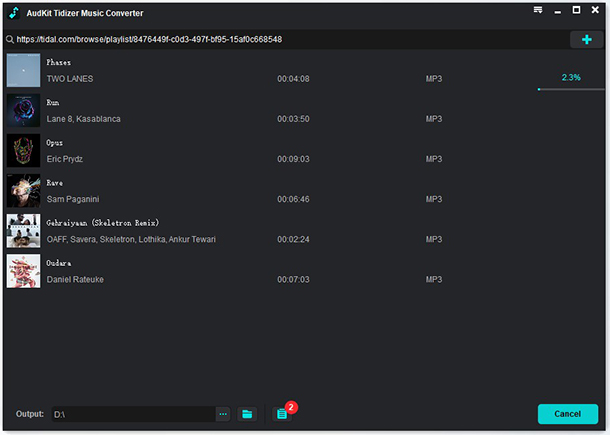 ---
In Conclusion
To wrap up Tidal vs Rhapsody, it looks like both streaming services have had their ups and downs. While Rhapsody has long been a source of great digital music, Tidal is taking things to another level. Users are in awe of Tidal's impressive Hi-Fi and master sound quality. While Rhapsody can't beat Tidal for sound quality, it does offer an affordable plan for struggling music lovers. If you choose Tidal, it is worth mentioning that AudKit Tidizer will save you a lot of money. It allows you to listen to Tidal music offline, even without a Tidal HiFi or HiFi Plus subscription.
---