Tidal provides HiFi and MQA music to its users who are desired to enjoy high-quality music. Maybe you are one of them. If you want to stream Tidal songs on the device with a lossless experience, Onkyo is the preferred one. Can you play Tidal HiFi on Onkyo? Yes! It is not long ago when Onkyo, made a declaration of a firmware upgrade release. This was to activate the MQA music playback while it also supports Tidal Masters audio streaming on other of its hi-fi components.
Tidal users have been treated to technological advances. You can automatically update your network-connected Onkyo products as long as they are compatible. How to make Onkyo Tidal connect to enjoy HiFi and MQA songs? Here are the instructions for you to stream Tidal on Onkyo easily. Scroll through for more insight!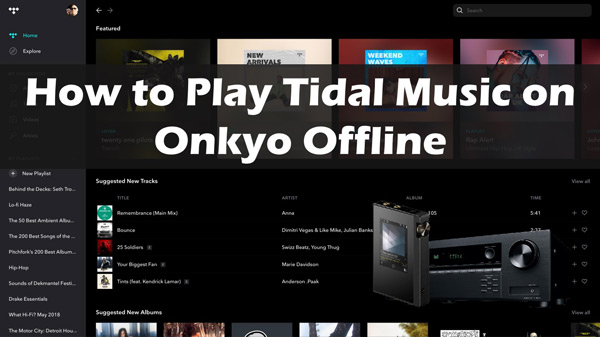 ---
Part 1. How to Play Tidal on Onkyo – Official Ways
Since Tidal and Onkyo have integrated with each other, you will be able to listen to Tidal on Onkyo within several steps. And the following is about how to stream your favourite Tidal songs, playlists, and albums on Onkyo receiver and Onkyo audio player respectively.
How to Listen to Tidal Music on Onkyo Receivers via Onkyo Controller App
The Onkyo Controller app lets you conveniently operate your compatible Onkyo network products from various devices. Here's how to get Tidal Onkyo via the Controller app.
Step 1. Connect your Onkyo receivers and mobile devices to the same network.
Step 2. Download the Onkyo Controller app on your Android or iPhone.
Step 3. Launch the Controller app and click on the Onkyo receiver to show it when it displays automatically.
Step 4. Choose "Net" or "Network" from the top options and click Tidal to register.
Step 5. Finally, enter your Tidal username and password to play Tidal music on Onkyo receivers.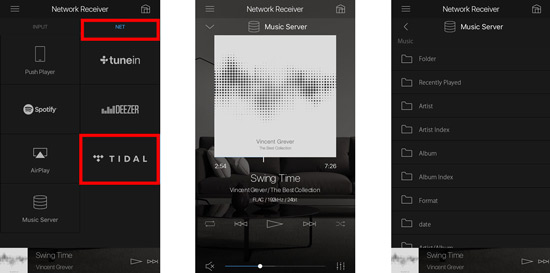 How to Play Tidal Songs on Onkyo Audio Player via the Tidal App
If you're using Onkyo audio player, using the Tidal app to listen to music is a way with no difficulty. Check out how to get your tracks via the Tidal app.
Step 1. First, go to the app store on your Onkyo audio player and search Tidal.
Step 2. Next, hit on the "Download" tab to install the Tidal app.
Step 3. Open the Tidal app and sign up for an account (or log in if you already have one).
Step 4. Now select and stream any music from your Tidal app on Onkyo audio player.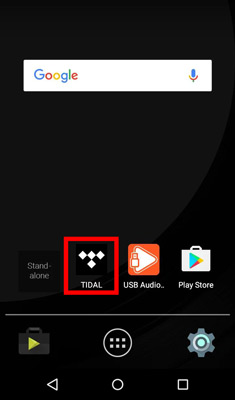 ---
Part 2. How to Stream Tidal MQA on Onkyo Offline Free
You need an internet connection and a Premium account to play Tidal on Onkyo. But what if your Tidal subscription just ended and you wish to stream Tidal? Well, it is possible to put Tidal music files into Onkyo offline. You should be aware that Tidal has put strict measures by limiting access to their music on non-Tidal apps and devices. You need to convert Tidal music to acceptable formats that are playable on other devices and players like Onkyo.
The best app, AudKit Tidizer Music Converter, lets you enjoy all your Tidal tracks offline. Available on both Mac and Windows, it lets you download your songs for local storage no matter whether you are a Tidal Free or HiFi Plus subscriber. This app is designed to download Tidal MQA and HiFi music to common output formats. It supports FLAC, WAV, M4B, MP3, AAC, and M4A among other formats. Likewise, easily customize the parameters such as channel, speed, sample rate, and bitrate.
The AudKit software is known for its best conversion quality, managing to retain the original ID3 tags and metadata information of Tidal songs. It will keep information such as album art, artists, title, years, and track numbers among others. The conversion speed is good. With the speed of 5X, it equates to a conversion of 10 hours to take only 2 hours. More so, you get your downloaded Tidal tracks on multiple devices and players without needing any internet connection.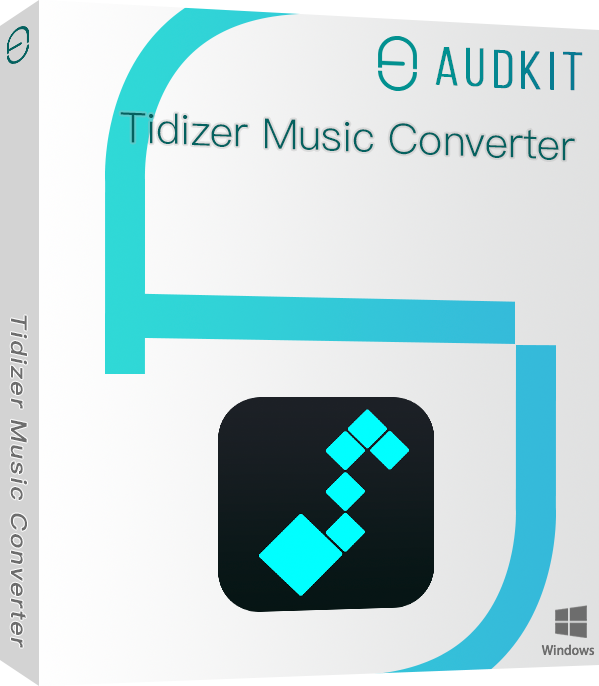 Main Features of AudKit Tidizer Music Converter
Maintain original sound quality and ID3 tags for Tidal songs
Convert Tidal tracks into MP3, WAV, and more at a 5X rate
Listen to Tidal music on Onkyo or other devices offline
How to Download Tidal Playlist Offline for Onkyo
Step 1 Install and register Audkit Tidizer Music Converter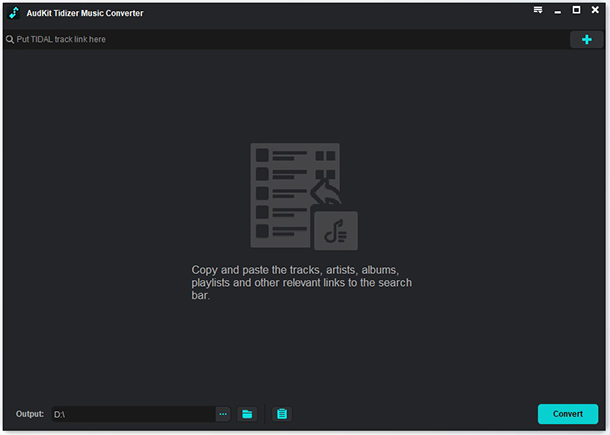 Go to the official website and choose Mac or Windows OS version to download AudKit Tidal Music Converter as per your computer's operating system. Once you set up and open the AudKit tool, the Tidal app will also be automatically launched. Then proceed to activate the AudKit Tidizer Music Converter to unlock all the features. Click on the "Menu" > "Register" tab and then copy and paste the licensed email and registration code to enable activation of the full version.
Step 2 Reset the output parameters for Onkyo Tidal MQA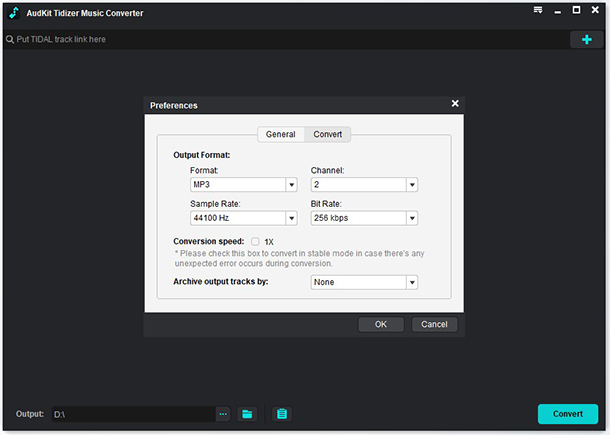 From the "Menu" icon, select the "Preferences" > "Convert" option. Next, customize the output format for Tidal to MP3, FLAC, WAV, AAC or M4A which are compatible with Onkyo. Change other parameters such as bit rate, sample rate, and channel if necessary. Remember, you can also choose the archive way either by album or artist.
Step 3 Import Tidal playlist to AudKit software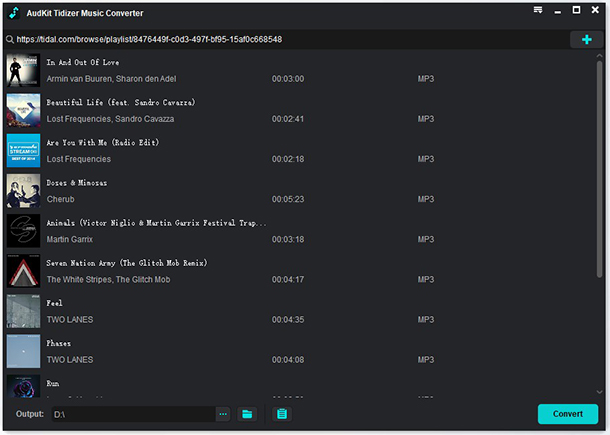 After saving all output configurations, start to import your Tidal playlist to the converter. Right-click on the Tidal song, then select "Share" > "Copy Track Link" and paste the link into AudKit Tidizer's search bar. Next, click on the "+" tab to upload your playlist from the Tidal app.
Step 4 Download Tidal songs offline to PC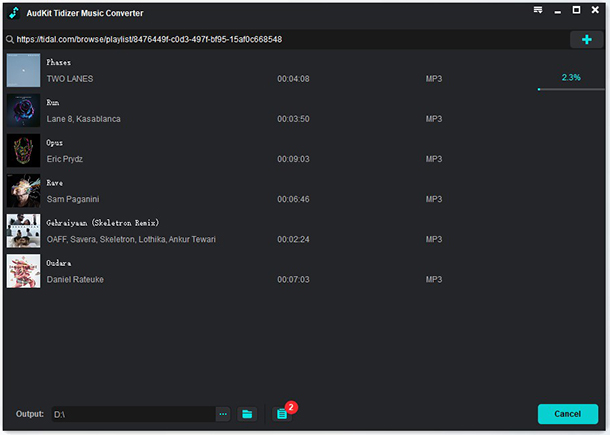 Now confirm your entries, then hit on the "Convert" tab to let AudKit Tidizer Music Converter start to download Tidal playlist. You can even add more tracks to the list during the conversion process. Once completed, a red tip will be shown on the "Converted" icon. Open it to find your converted Tidal tracks. You are now free to transfer your Tidal tracks to Onkyo for offline playback.
How to Transfer Local Tidal Music to Onkyo
Your Tidal tracks are free from any limitations and are comfortable to be played on Onkyo devices.
For Onkyo audio player:
1) First, connect a USB cable to your computer.
2) Then locate the converted Tidal folder and send the folder to the player using a USB cable.
3) Next, find the local Tidal files on your Onkyo audio player and click on them to play.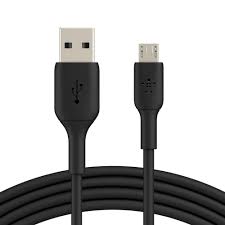 For Onkyo receivers:
1) Connect a USB flash drive to your PC to save Tidal music to USB.
2) Find the folder with all converted Tidal music, and copy and paste it into the USB drive.
3) Next, safely eject the USB flash drive then insert it into your Onkyo receiver via the USB port.
4) Freely play your Tidal tracks from the device with no need to make Tidal connect Onkyo.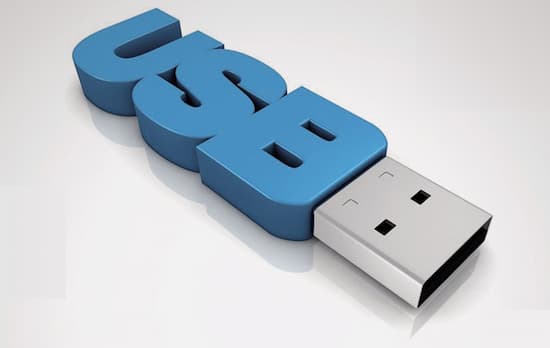 ---
Part 3. Onkyo Tidal Client Not Found Issue & Solutions
In certain circumstances, you may experience the Onkyo Tidal client not found issue when you intend to play your Tidal songs. Here are the solutions that may help to fix the problem.
Way 1. Check Network Connection
You need a network connection to let Onkyo and your device communicate. If there is a Tidal Onkyo client not found issue, then first check whether your network connection is good. The network stability will affect the performance.
Way 2. Restart Your Device and the Tidal App
If there is no network issue. Restarting the Tidal app and the Onky player will enable them to refresh. Perhaps the client not found issue will just vanish when they restart. If not, try to uninstall the app.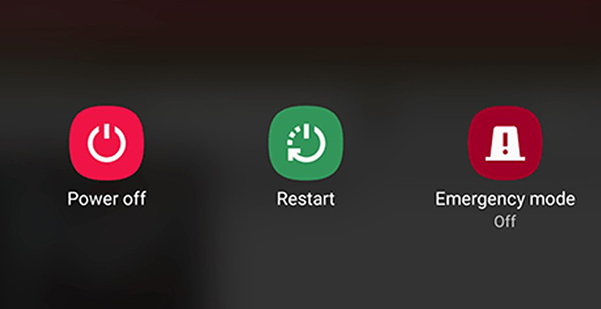 Way 3. Uninstall and Reinstall the Tidal App
Uninstall and then reinstall the Tidal app to eliminate any bugs that may be hindering the proper functional ability of the app.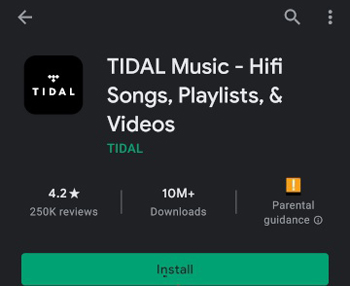 Way 4. Update the Tidal App
An obsolete application will always cause you to run into issues such as client not being found. Check if an update to your Tidal app is required. Always ensure it is running on the latest version.
---
Part 4. Conclusion
Thanks to Onkyo and Tidal, they facilitate the process to stream MQA from Tidal to Onkyo. Some users encounter the Onkyo Tidal client not found issue can troubleshoot according to several ways. If network connection issues continue to come up even after fixes, you need to change your approach.
Simply use AudKit Tidal Music Converter to download your Tidal tracks to a format supported by Onkyo. Offline playback reduces the odds to meet the streaming issue. More so, you'll enjoy the feature of Tidal subscription services and even play Tidal on Onkyo without restrictions.
---