For a while now, streaming has become the music industry's fastest-growing income source, and throughout the previous decade, one service has shown itself as the most popular: SoundCloud. As well they should, too. However, there are several music streaming services competing for the business (not to mention your wallet). Its supremacy is, in fact, being challenged by competitors who want a piece of the action.
Tidal is one such service that has become well-known for its commitment to audio excellence. Tidal is many people's preferred choice among the music streaming services that provide lossless CD-quality and high-resolution streaming. To what extent does it fall short of the streaming industry's undisputed king, SoundCloud? Which of the service's packages do you find most appealing, then? Let's see if its Tidal or SoundCloud that wins your heart in this Tidal vs SoundCloud debate.
---
Part 1. Tidal vs SoundCloud: Brief Introduction
When it comes to Tidal, users can subscribe to have access to high-quality audio and video with in-depth context for the first time. While the platform is not free, the subscription perks are still worth every penny. In Tidal's expansive music collection, you will discover songs from several well-known performers.
Alternatively, SoundCloud is a music and podcast streaming service that provides unlimited song-play from any location around the globe. In addition, you can share and advertise your own music or that of up-and-coming musicians.
If you're trying to decide between Tidal and SoundCloud, or another service, for audio quality, the following details should help you choose the right tool for the job. Take a look at the provided comparison, and then make a call.
---
Part 2. SoundCloud vs Tidal: Music Library
Because this platform allows a huge number of independent artists to submit their unique music here, SoundCloud has a greater music collection than its competitors. They claim to have more than 200 million songs in their collection at the moment.
Tidal is presently accessible in 53 countries, and it will have more than 60 million songs and more than 250,000 videos in its database. But that's not all, the program offers podcasts and hundreds of playlists that have been compiled by music business professionals, music journalists, and the artists themselves.
SoundCloud is a better option for you if you are looking for a free music streaming service that not only offers a wide variety of songs created by a variety of artists but also promotes the development of new musical talent.
---
Part 3. Tidal vs SoundCloud Quality
Without a doubt, Tidal has better streaming audio quality than SoundCloud. The majority of the music here is provided in FLAC format at a substantial bitrate of 1,411 kbps, allowing those with HiFi equipment to enjoy the music as the creators intended. All of these tracks are available in 320 kbps AAC quality on the Tidal HiFi service.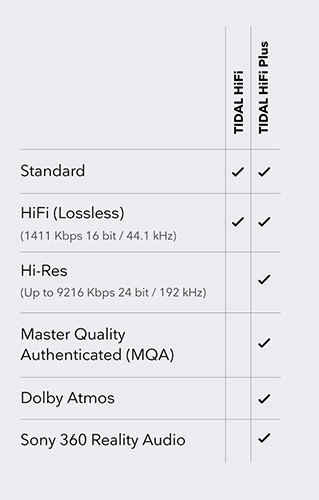 When comparing SoundCloud Pro with Tidal, the latter's superior audio quality is the clear winner. Only SoundCloud Go+ members have access to the higher quality 256kbit/s AAC streams that make up the vast majority of SoundCloud's music library.
---
Part 4. SoundCloud vs Tidal: Music Discovery
You can surely find many outstanding artists on SoundCloud since the platform depends heavily on its users to contribute music, whether it's covers or original tunes. As mentioned earlier, SoundCloud is the owner of a large amount of exclusive music.
Tidal is praised by a large number of users for its ability to create playlists tailored to each individual user's preferences in terms of how they listen to music. If you give it a few weeks, the algorithm that powers Tidal will eventually be able to deliver you something that will thrill you.
Tidal also provides users with recommendations of popular playlists, mood-based playlists, and an area called Tidal Rising, where they can find fresh talent. Despite this, some users get the impression that Tidal is more focused on Hip-Hop and Rap music than other genres.
---
Part 5. Tidal vs SoundCloud: Music Sharing Feature
When it comes to storing and sharing music, Tidal and SoundCloud are similar in a number of ways. Both of these services offer integrations with Facebook and Twitter, making it simple to share music with your network of friends.
In addition, you can instantly post music on Pinterest or Tumblr from your account on SoundCloud. You also have the option of sending your friends the music or playlist that you like from Tidal or SoundCloud by copying the URL of the track or playlist and sending it to them through Messages or any other form of social media.
---
Part 6. SoundCloud vs Tidal: Price
There is no free music available on Tidal, however, all subscription options come with a 30-day Tidal free trial period. For a limited time, Tidal will be available at no cost to users. Tidal HiFi Plus costs $19.99 per month, while the HiFi plan is just $9.99 per month. Students save between $4.99 and $9.99 per month following verification (every 12 months), which is a nice perk.

When it comes to cost, the free edition of SoundCloud still gives you access to an incredible library of songs. You can enjoy the finest of SoundCloud without any buffering time by going to their website. The only drawback of listening to free music on SoundCloud is being subjected to advertisements. It is recommended that you read this before you go through the hassle of creating a new account. The service provides a free version for SoundCloud Go and a 30-day free subscription for SoundCloud Go+ to all new users.
---
Part 7. SoundCloud vs Tidal: Subscription Plans
With Tidal, you can choose between two different subscription packages. Users who have upgraded to Tidal HiFi get access to high-definition music videos, editorial content handpicked by music industry professionals, and the full catalog of high-quality music available on Tidal. If you upgrade to Tidal HiFi Plus, you can listen to music in lossless high fidelity with support for formats like Sony 360 Reality Audio and Dolby Atmos. You can refer to the comparison of Tidal HiFi vs HiFi Plus.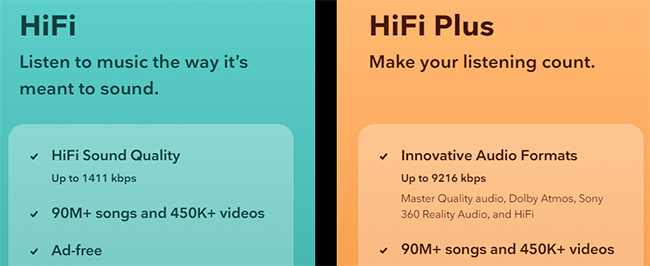 After that, SoundCloud has two monthly membership options: SoundCloud Go for $4.99 and SoundCloud Go+ for $9.99. Offline listening and ad-free listening are included with both subscription levels, however, only SoundCloud Go+ gives users access to the whole library without previews or low-quality clips.
SoundCloud has two tiers for creators: the free tier, SoundCloud Basic, and the $16/month tier, SoundCloud Pro Unlimited. With Pro Unlimited, musicians can upload endless audio files, plan album drops in advance, and more.
---
Part 8. Availability of Tidal vs SoundCloud
Tidal: Web Player (HiFi supported in Chrome and Firefox only), macOS, Windows 7 or above, iOS devices from iOS 11, Android devices from Android 5, TVs, cars and some speakers.
SoundCloud: Web Player, Windows(beta), macOS, iOS and Android devices, Sonos, Windows Phone
However, similar to other music streaming services, each has its own set of restrictions. Even with a paid membership and the ability to download songs for offline listening, you cannot be able to locate the local audio files you need to play Tidal in an older model automobile. It's also due to the fact that most smartphones aren't fully compatible with Tidal and SoundCloud just yet.
---
Extra Tips: How to Enjoy Tidal Music Offline on Any Device
For offline music lovers, we have something excellent in store for you! If you want to save your favorite songs, albums, mixes, and radio stations from Tidal to your PC, go no further than AudKit Tidal Music Converter. This powerful tool allows you to change the audio output format from Tidal to something more compatible with your current device, such as MP3, FLAC, WAV, M4A, and so on.
This Tidal music converter works with both PC and Mac computers. AudKit Tidal Music Converter for Windows and Mac can convert Tidal to MP3 at over 5X speed after you register and activate the proper version.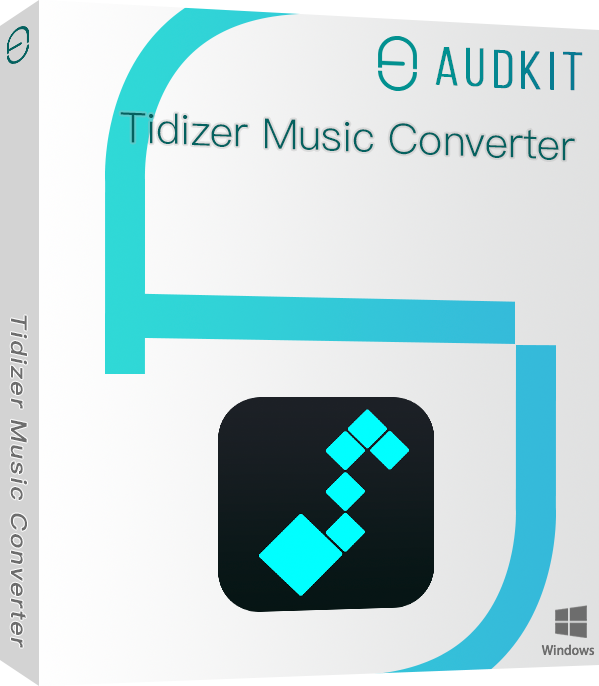 A simple 3-step process makes it easy to get Tidal music on your PC
Allow users to add and download songs from Tidal for offline listening
Provide lossless HiFi/Master quality and make sure that all of the ID3 tags are intact
Convert Tidal music to other formats like MP3, FLAC, WAV, AAC, M4A, or M4B in bulk
Perform music conversions for Windows are completed at speeds of over 5X
Steps to Use AudKit Tidal Music Converter to Download Tidal Music for Offline Playback
Step 1: Begin by downloading the AudKit Tidal Music Converter on your PC. When you open Tidal, the Tidal app will start instantly.
Step 2: Now head to the Preferences menu and navigate to Convert. Here you can adjust the channels, sampling rate, bit rate, and output format to suit your needs.
Step 3: Next, on the Tidal app on your computer, simply drag and drag your favorite Tidal music that you want to convert. Alternatively, you can right-click the music on Tidal, click Share, copy the URL and paste it into AudKit's search box. When you're done, use the "+" button to import the song to AudKit.
Step 4: Finally hit the "Convert" button at the very right bottom to start the conversion process. Once the process completes, the converted files will be saved in a local output folder and you can enjoy Tidal music offline anywhere anytime.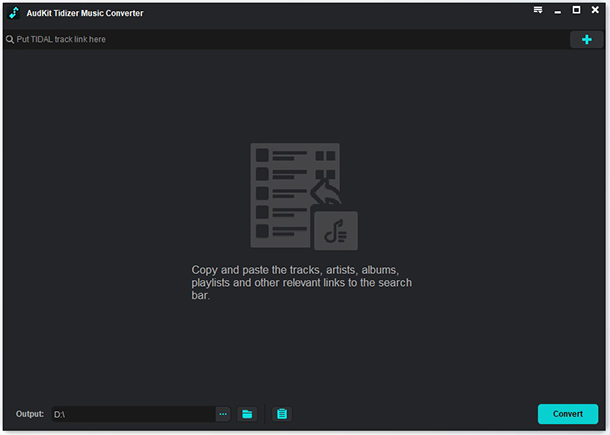 ---
The Bottom Line
Is Tidal better than SoundCloud? If you're willing to pay for high-quality music from today's most popular musicians, Tidal is a great choice. In contrast, SoundCloud is the place to go if you want to learn about up-and-coming musicians. Additionally, it can help you in cutting costs.
Nonetheless, if you want to download Tidal music for offline play whenever you're traveling or setting out somewhere, AudKit Tidal Music Converter is the best choice!
---